Rice Cooker
Teriyaki Chicken
Loaded with iconic Japanese flavor, you only need a few simple pantry ingredients to make this easy chicken teriyaki recipe.
It's a comfort food recipe you can make with minimal fuss after a long day. Sure, it'll recharge your batteries – but it also tastes way better than takeout.
While we feel that one can never have too much teriyaki chicken in their lives, some might call our love for this Japanese chicken recipe… slightly excessive, ha!
We think you're absolutely going to love it!
Ingredients
2 cups (supplied measuring cup) of white rice
1/2 lb chicken thigh
1/4 stalk white leek
1 tbsp potato starch
Red leaf lettuce (for garnish)
Cherry tomatoes (for garnish)
Lemon (for garnish)
Shichimi peppers (for garnish)
1 tbsp soy sauce
1 tbsp mirin
1 tbsp sugar
1/2 tsp ginger juice
Directions
Cut the chicken into even slices and poke with a fork several times. Sprinkle with sake.
Thinly slice the white leek diagonally and place in tacook cooking plate.
Dredge chicken with corn starch and place on top of white leek in the tacook cooking plate.
Season the chicken with the seasoning mixture.
Put the washed rice and water in the inner pan, and set in the rice cooker.
Set the tacook cooking plate in the inner pan. Select the [Plain/Synchro-Cooking] menu and press the [Start] key.
When cooking is complete, serve the chicken and the garnish ingredients on a plate. Season with shichimi peppers as desired.
WHAT IS TERIYAKI SAUCE?
Teriyaki sauce – テリヤキソース – is more of a glaze than a sauce really.
Soy sauce, mirin and sugar are combined and, when heated, become a wonderfully thick and delicious glaze for proteins… especially chicken.
Similar to the glossy glaze we created for this fun and easy teriyaki chicken onigiri recipe, teriyaki sauce provides a wonderful, iconic mixture of savory and sweet.
We've added a bit of ginger juice to the sauce for this teriyaki chicken recipe. It manages to pack heat without being overtly spicy.
And the chicken is super tender and moist due to how it's cooked!
HOW TO MAKE TERIYAKI CHICKEN IN A RICE COOKER
To make this delicious Japanese chicken recipe, there's no need to fire up the burners or dig out the saute pan. We'll be making this easy chicken teriyaki in a rice cooker today!
Since many Tiger rice cookers are capable of doing so much more than just cooking rice, we like calling them multi-cookers. And what's so cool about this healthy chicken recipe is that we'll be cooking our Japanese rice AND teriyaki chicken in separate compartments of the same multi-cooker. Whoa, science😜
Simply place your rinsed rice and water in the inner pot of your rice cooker – then load up the Tacook cooking plate with all the elements for your savory, mouthwatering teriyaki chicken.
Once you press Start, your work is done, chef!
Everyone is going to want seconds. Might want to make extra!
Itadakimasu!
Products used in this recipe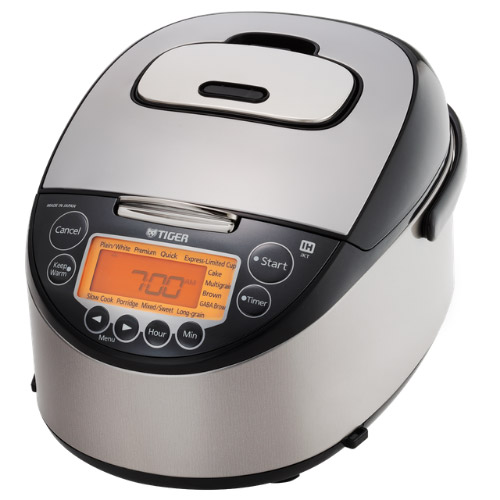 Induction Heating Rice Cooker JKT-D10U/18U
Made in Japan The TIGER JKT-D multi-functional induction heating (IH) electric rice cooker allows yo […]
LEARN MORE