Rice Cooker
Teriyaki Chicken Onigiri
We're addicted to onigiri – おにぎり ! And, whether you call them onigiri, or omusubi – おむすび – or just settle for calling them rice balls, they simply make the best snack! We love grabbing a rice ball or two at the konbini (Japanese convenience store). But today, we're making them from scratch.
Get ready! This is a fun family food project that the kids will be super excited to help out with. You'll love it because it's healthy. They'll love it because it's delicious!
Bonus: this is one of the best gateway recipes to present to someone who may still be on the fence about trying Japanese food for the first time.
Because… what's more accessible than chicken and rice?! 🍙
Ingredients
¼ pound skinless, boneless chicken breast, thinly sliced
½ small carrot, peeled and thinly sliced
2 scallions, sliced lengthwise
2 tablespoons mayonnaise
1 teaspoon soy sauce
2 cups cooked Japanese rice
½ teaspoon Kosher salt
Nori sheets (dried seaweed)
2 tablespoons soy sauce
¼ cup mirin
1 teaspoon sugar
Directions
Place all ingredients for the Teriyaki sauce in a bowl and stir until sugar has dissolved. Add uncooked chicken strips and marinate for 20 minutes.
In a small bowl, stir in mayonnaise and soy sauce and set aside.
Rinse Japanese rice under cold water and place into the inner pot along with the right water measurements. Place inner pot into the rice cooker.
Put marinated chicken and carrot strips into the tacook cooking plate and place inside rice cooker. Close, select the SYNCHRO-COOK menu and press the START button.
When cooking cycle is complete, take the tacook cooking plate out of the rice cooker and set aside.
Sprinkle Kosher salt on the cooked rice and, using a plastic rice paddle, fold the cooked rice a few times to fluff and season evenly.
Set a bowl of water next to your ingredients.
Wet your hands (this prevents the rice from sticking) and grab a small handful of rice. Flatten the rice and shape it into a triangle.
Make a dent in the center of the onigiri and spread a little of the mayonnaise mixture all the way to the tip of the onigiri.< /li>
Place one piece of chicken, one carrot slice and sliced scallions on top.
Wrap with a nori sheet and serve individually or together on a plate.
WHAT IS TERIYAKI?
We all love it! But what exactly makes something Teriyaki?
Well, teriyaki – テリヤキ – is a Japanese cooking technique where meat or fish is cooked with a trinity of ingredients that creates a sweet and savory glaze.
Soy sauce, mirin and sugar are combined and, when heated in a pan, form a glaze that thickens and coats the protein. It's delicious – and is one of the most famous flavor combinations Japan ever exported!
For this teriyaki chicken onigiri we're forgetting about the pan altogether, and using a rice cooker to prepare the chicken instead.
To make sure that the teriyaki chicken comes out perfectly for this onigiri recipe, we'll make that iconic mixture of soy, sugar and mirin – and will use it as a quick marinade for the chicken strips.
The flavor of these rice balls on point! And, not only are they delicious, this healthy chicken recipe is super filling. It's sure satisfy you, whether you have one as a snack – or a couple as an easy and nutritious lunch.
HOW TO MAKE ONIGIRI IN A RICE COOKER
We think the best part about this Japanese rice balls recipe – aside from the taste – is that you can use your Tiger rice cooker to cook all of the ingredients to perfection.
That's right – you can cook your carrots and marinated chicken at the same time as the rice!
Simply load your Japanese rice and water in the inner pot of your multi cooker, and place the marinated chicken in the Tacook plate above. Select the Synchro-Cooking setting and press Start. And that's it!
No guessing whether your rice and chicken are done to perfection or not. When the timer sounds off, it's time to start constructing your onigiri.
Check out our video for the play by play steps on making your Japanese rice balls the best they can be.
Itadakimasu!
Products used in this recipe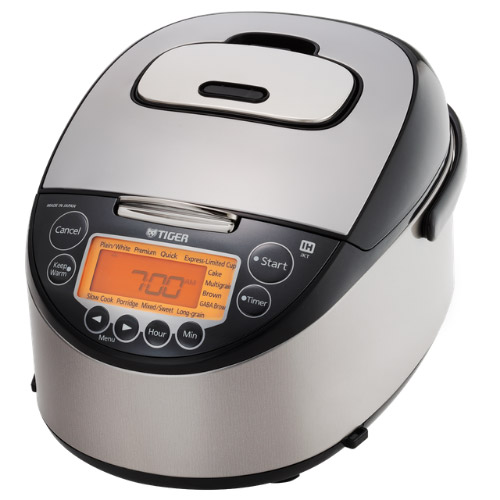 Induction Heating Rice Cooker JKT-D10U/18U
Made in Japan The TIGER JKT-D multi-functional induction heating (IH) electric rice cooker allows yo […]
LEARN MORE