Rice Cooker
Lo Mein Spaghetti
This lo mein spaghetti mixes the flavors of your favorite takeout spot with the ease of boiling spaghetti. You're going to love this East meets West pasta recipe!
Servings

3-4

Preparation

15 min

Cooking

30 min
Ingredients
½ Small onion, thinly sliced
2 Garlic cloves, minced
1 Medium carrot, sliced on the bias
1 cup Broccoli florets, chopped bite size
1 cup Snow peas, trimmed
1 5-ounce Water chestnuts, drained
2 tablespoon Soy sauce
1 tablespoon Oyster sauce
1 tablespoon Sake
¼ cup Water
1 tablespoon Shaoxing wine, or dry sherry
2 Scallions, finely chopped
10 ounces Dry spaghetti
1 ½ tablespoon Sesame oil
Directions
Place the onion, garlic, carrot, soy sauce, oyster sauce, sake, water, and Shaoxing wine, in the rice cooker inner pot, and close the lid.
Choose the [Slow Cook] function and set the timer for 30 minutes.
When there is 10 minutes left to the cooking process, open the lid and add the broccoli, snow peas, and water chestnuts. Close the lid and continue cooking.
Meanwhile, cook the spaghetti until al dente, according to the directions on the package. Drain well.
When the vegetables are done cooking, open the lid and stir in the spaghetti and sesame oil. Serve.
THE EASIEST LO MEIN RECIPE – MADE WITH SPAGHETTI NOODLES
This is one of those recipes that was developed out of necessity. We were craving takeout lo mein – but our favorite spot was closed for the evening.
So we found ourselves asking the question… Can you make lo mein with spaghetti? The reply was decisive: Hey, why not?!
This spaghetti lo mein is loaded with the sweet and savory bite of soy sauce, sake, shaoxing wine and oyster sauce. Broccoli, snow peas and water chestnuts deliver a great crunch and color.
And we added a bit of Chinese sausage to the mix as a little experiment (yes… it was awesome).
But the best part about this recipe is that you can use whatever you have handy. The second best part: it's so easy to make in your rice cooker!
HOW TO MAKE LO MEIN SPAGHETTI IN A RICE COOKER
To start, place the sliced carrots, garlic and onion in the inner pot of your Tiger multifunctional rice cooker – along with all your liquid ingredients (check the ingredients tab on this page for specifics).
Use the Slow Cook setting for 30 minutes. When there's just 10 minutes of cook-time remaining, add your snow peas, broccoli and water chestnuts to the mix.
As for the pasta, just boil on your stovetop until al dente. Drain your cooked pasta – and add it to the lo mein sauce in your rice cooker (after the cooking cycle has finished).
Mix well, and add a little sesame oil – then serve it up!
This lo mein spaghetti is so delicious, don't be surprised if everyone around the table demands seconds.
Products used in this recipe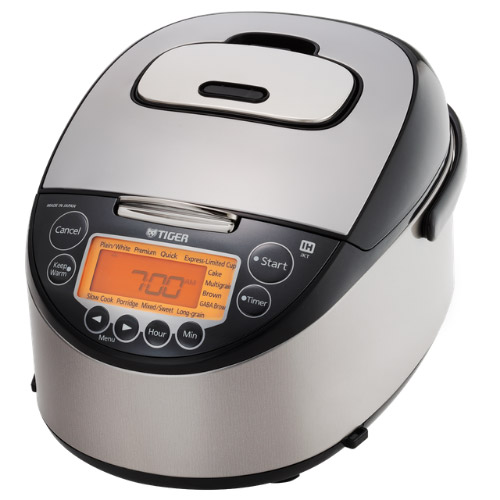 Induction Heating Rice Cooker JKT-D10U/18U
Made in Japan The TIGER JKT-D multi-functional induction heating (IH) electric rice cooker allows yo […]
LEARN MORE