Rice Cooker
Tuna Spinach Spaghetti
This tuna spinach spaghetti recipe is made with simple pantry ingredients but has a TON of flavor. And it's so easy to make in your rice cooker!
Servings

3-4

Preparation

15 min

Cooking

20 min
Ingredients
200g spaghetti
400ml water
1 can tuna in water, drained
¼  cup frozen edamame beans
60g frozen spinach
2 ½ tablespoons soy sauce
1 tablespoon mirin (rice wine)
3 tablespoons mayonnaise
Salt and pepper, to taste
Directions
Break the spaghetti in half and place it in the rice cooker inner pot.
Add the water and ½ teaspoon salt.
Close the lid and choose the [Slow Cook] function. Set the timer to 20 minutes.
After 15 minutes, open the lid and add the tuna, edamame beans, spinach, soy sauce, and mirin. Stir well to combine and close the lid to finish cooking. 
When the cooking is done, open the lid and stir in the mayonnaise. Season with salt and pepper and serve immediately.
TUNA SPINACH SPAGHETTI: A SIMPLE WAFU PASTA RECIPE
It's always wise to have a couple easy pasta recipes in your cooking arsenal. Especially for those evenings after a stressful day at work, when you didn't make it to the grocery store and the cupboards at home are getting pretty bare.
Bonus points if those emergency pasta recipes pack a ton of flavor and require very little in the way of actual cooking to whip up!
This tuna spinach spaghetti is one of our favorite canned tuna recipes of all time. And no matter how long it has been since you made it to the grocery store, there's probably a can of tuna somewhere!
Al dente pasta is infused with Japanese ingredients like soy sauce and mirin that introduce a punch of savory umami and just a touch of sweetness.
Frozen spinach and edamame beans provide a pop of color and provide a balance to this awesome, slightly creamy one pot meal.
Oh, btw… It's super easy to whip this tuna pasta up in your rice cooker!
HOW TO MAKE TUNA SPINACH SPAGHETTI IN A RICE COOKER
To start, place your pasta and water and a pinch of salt (check the ingredients tab on this page for exact amounts) into the inner pot of your Tiger multifunctional rice cooker – and use the Slow Cook setting for 20 minutes.
When there's 5 minutes of cooking time remaining, carefully pop the lid and add all your other ingredients (EXCEPT the mayo). Stir once and close the lid for the remaining cooking time.
When the timer has sounded off, stir in your mayo and a dash of salt and pepper – and you're good to go!
Pasta night at your place is gonna be so dang yummy. And easy!
Products used in this recipe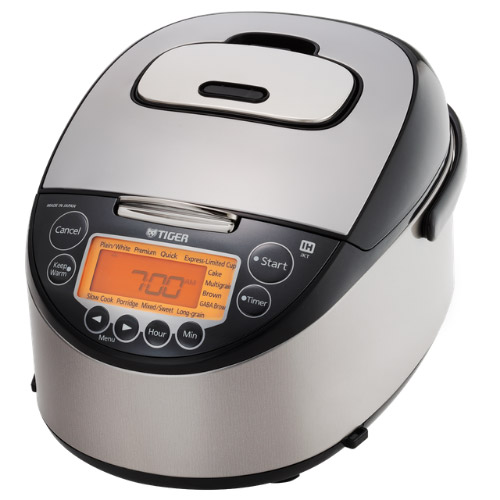 Induction Heating Rice Cooker JKT-D10U/18U
Made in Japan The TIGER JKT-D multi-functional induction heating (IH) electric rice cooker allows yo […]
LEARN MORE