Rice Cooker
Creamy Mushroom Spaghetti
Pasta night is always something to look forward to. And once you twirl up a forkful of this al dente creamy mushroom spaghetti, you and your family will already be thinking of heading back for seconds!
Servings

3-4

Preparation

10 min

Cooking

30 min
Ingredients
250g Spaghetti
8 Button mushrooms, chopped
450ml Water
1 tsp Powdered chicken stock
2 tbsp Flat leaf parsley, chopped
Ground black pepper
175ml Cream
2 Large eggs
¼ cup Freshly grated Parmesan cheese
½ tsp salt
Directions
Using your hands, break the spaghetti in half and place the noodles in the inner pot. Add mushrooms, water, and chicken stock and stir until the stock has dissolved.
Close the lid and choose the [Slow Cook] function. Set the timer to 20 minutes and press Start. 
Whisk the eggs in a bowl and stir in the cream, Parmesan, and salt.
When the cooking is done, slowly add the cream mixture, stirring constantly until it gets creamy. Close the lid and click on Keep Warm. Leave for 5 minutes. 
Divide the pasta among 2 plates and serve topped with fresh parsley and ground black pepper.
AN EASY SPAGHETTI WITH CREAMY MUSHROOM SAUCE THAT MAY REMIND YOU OF PASTA CARBONARA 
Spaghetti with cream sauce is one of the best things to ever fill a pasta bowl. We love the twirl of the fork and a bite of al dente perfection surrounded by a glossy, cream based sauce.
Well this mushroom pasta has the flavor elements of a home cooked spaghetti carbonara – however happens to be meat-free and much easier than keeping an eye on a boiling pot of spaghetti (more on that in a sec).
Mushrooms provide an earthy, umami flavor that goes above and beyond. We're using button mushrooms – but feel free to use your favorites.
The mushroom sauce is made complete by the traditional addition of eggs, cream and freshly grated Parmesan cheese just before serving for a savory, creamy one-two punch.
Make this carbonara-like mushroom pasta if you're doing the whole Meatless-Monday thing – or if you're just steering clear of meat in general. We promise… you won't miss the meat with mushrooms!
And it's so easy to make in your rice cooker, you'll pretty much be finished with dinner with the press of a button.
HOW TO MAKE CARBONARA IN A RICE COOKER
We like to break our uncooked pasta in half. That way it'll fit inside the inner pot of your Tiger multifunctional rice cooker. 
We're using a touch of broth in our pasta water for an added savory note to the cooked pasta. While we like chicken stock, veggie broth works wonders as well!
Anyway, add your pasta, mushrooms and cooking liquid to the inner pot and use the Slow Cook setting for 20 minutes. Your pasta will be al dente once the timer sounds off.
Once it's cooked just add your eggy, creamy, cheesy mixture (check the recipe tab on this page for amounts) and stir.
You'll be left with a creamy, glossy sauce that clings to your pasta perfectly!
Products used in this recipe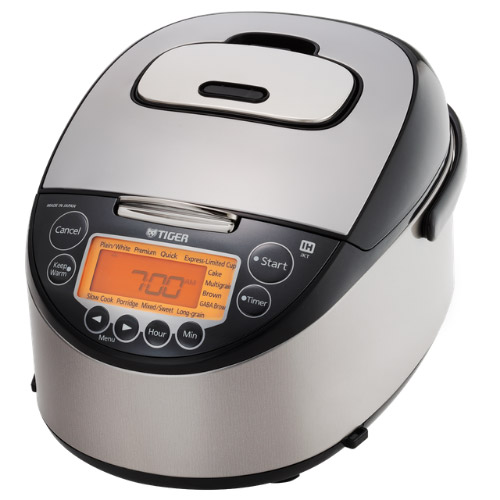 Induction Heating Rice Cooker JKT-D10U/18U
Made in Japan The TIGER JKT-D multi-functional induction heating (IH) electric rice cooker allows yo […]
LEARN MORE