Rice Cooker
Spinach and Tomato Spaghetti
Pasta night has never been easier – or more delicious! Because there's nothing more satisfying than al dente spaghetti with fresh spinach and tomatoes. And all you have to do is press a button!
Servings

3-4

Preparation

10 min

Cooking

20 min
Ingredients
250g Spaghetti
450ml Water
2 tbsp Extra virgin olive oil
2 cups Cherry tomatoes, sliced in half
2 cups Baby spinach, chopped
1 small Onion, finely chopped
4 Garlic cloves, minced
1 tsp salt
1 tbsp nutritional yeast
1/2 cup Fresh basil, chopped
Freshly grated Parmesan cheese (optional)
Directions
Using the inner bowl, add spaghetti, water, olive oil, tomatoes, spinach, onion, garlic, salt, and nutritional yeast, and stir.
Close the lid and choose the [Slow Cook] function. Set the timer to 20 minutes and press Start.
When the cooking is done, transfer the pasta to a serving bowl and add the fresh basil. Toss well and serve with Parmesan cheese.
A CLASSIC TOMATO BASIL PASTA RECIPE
We love the classics! There's something magical about the brightness and simplicity of a fresh tomato spinach spaghetti topped with basil and dusted with Parmesan cheese.
In this Italian pasta recipe, we're not reinventing the wheel. There are no tricks to making this other than having fresh ingredients on hand.
Halved cherry tomatoes burst with saucy goodness and fresh spinach leaves drop a little verdant lushness into the mix. Garlic and extra virgin olive oil are an absolute must. And we've added a bit of nutritional yeast to the mix for a dash of savory umami.
Now, while you can cook the basil leaves, we prefer to add them to the pasta after cooking. The fragrance of fresh basil is second to none.
That first bite of perfectly al dente pasta with fresh tomatoes and basil is the pinnacle of eating well. And it's so easy to make from start to finish in your rice cooker!
HOW TO COOK SPAGHETTI IN A RICE COOKER
Simply load everything you find in the ingredients tab on this page into the inner pot of your rice cooker. Select the slow Cook function for 20 minutes, and you're done.
Your pasta is al dente, the cherry tomatoes are popping with flavor and the spinach is perfectly wilted and ready to be devoured.
It doesn't get much easier than that. All that's left to do is grate some good Parmesan (leave it out if you're making a vegan spaghetti recipe) and dig in!
Whether you're making this easy pasta recipe – or are just making the sauce for spaghetti with tomato sauce – your Tiger multifunctional rice cooker is loaded with cooking presets that make preparing dinner after a long day super easy.
Products used in this recipe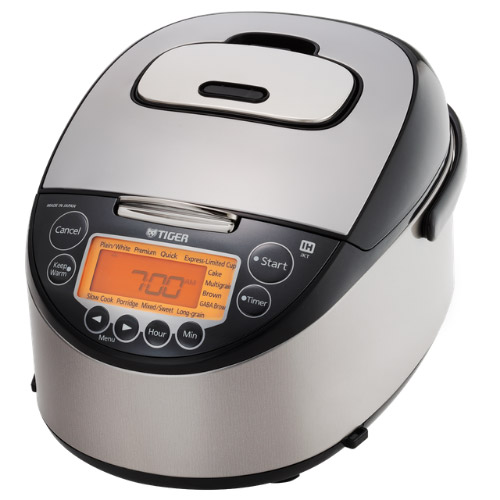 Induction Heating Rice Cooker JKT-D10U/18U
Made in Japan The TIGER JKT-D multi-functional induction heating (IH) electric rice cooker allows yo […]
LEARN MORE