Rice Cooker
Farmer's Market Vegetable Soup
Vegetable soup just does a body good! Try this rustic and healthy farmer's market vegetable soup recipe for dinner tonight. It's the best comfort food!
Servings

3-4

Preparation

15 min

Cooking

70 min
Ingredients
1 tbsp Olive oil
1 small Onion, finely chopped
3 Garlic cloves, minced
2 Medium carrots, chopped
3 Stalks celery, chopped
1 Yellow squash, chopped
1 cup Green beans, chopped
½ cup Corn kernel (canned is fine)
4 cups Vegetable stock or water
1 tsp Kosher salt
2 tsp Mixed dried herbs
1 ½ cup Baby spinach, chopped
Ground black pepper
Directions
Place all the ingredients – except for the baby spinach and ground black pepper – in the rice cooker inner pot. Stir and close the lid.
Select the [Slow Cook] function and set the timer for 60 minutes. Press start.
When the cooking is done, open the lid and stir in the baby spinach.
Close the lid and leave for 5-8 minutes, until the spinach has wilted.
Serve into bowls and season with ground black pepper.
A HEALTHY AND RUSTIC VEGGIE SOUP 
There's nothing better than a bowl of hot soup when the cold winter winds blow. And we love it when it's loaded with all the vegetables you might have in your bag after a trip to the farmer's market.
It's like eating Mom's home cooking, without all the hours of toil in the kitchen.
A base of onions and garlic mix perfectly with the savory, earthy notes of vegetable broth.
And we took a trip through the garden for this rustic vegan soup recipe! It's loaded with carrots, squash, green beans and corn – and we also tossed in a good amount of dried herbs for good measure.
Not only is this soup beyond delicious – it's super easy to make in your rice cooker!
HOW TO MAKE VEGETABLE SOUP IN A RICE COOKER
Just place everything (EXCEPT the baby spinach and black pepper) into the inner pot of your Tiger multifunctional rice cooker. 
Select the Slow Cook function for an hour and press the Start button. Your work is practically done at this point! Kick your feet up with a glass of wine and a good book.
Once the timer sounds off, open the lid and add your baby spinach. Close the lid for a few minutes so the spinach wilts a bit – and dinner is served.
We love serving this farmer's market vegetable soup with a sprinkling of freshly cracked black pepper.
It's one of those easy recipes that tastes like you worked for hours in the kitchen composing. And we think you and your family are going to love it!
Products used in this recipe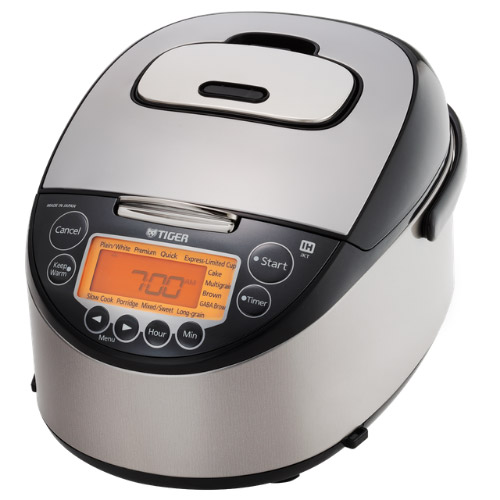 Induction Heating Rice Cooker JKT-D10U/18U
Made in Japan The TIGER JKT-D multi-functional induction heating (IH) electric rice cooker allows yo […]
LEARN MORE