Rice Cooker
Healthy Taco Soup
Indulge in south-of-the-border deliciousness with this smoky, savory and healthy taco soup recipe. Loaded with chicken, rice and beans – it's as filling as it is yummy!
Servings

3-4

Preparation

15 min

Cooking

60 min
Ingredients
½ Small onion, finely chopped
2 Garlic cloves, minced
2 tbsp Extra virgin olive oil
1 Small chicken breast, chopped
4 cups Low sodium chicken broth
14 1/2 ounce Diced tomatoes, canned
1/2 cup Uncooked brown rice
1 cup Sweet corn, drained
2 Medium carrots, roughly chopped
1 cup can Black beans, drained
1 tsp Chili powder
1 tsp Smoked paprika 
2 tbps Cilantro, chopped
1 Avocado, chopped
Directions
Put all the ingredients in the rice cooker inner pot and select the [Slow Cook] function. Set the timer for 60 minutes and press start. 
Serve in a bowl, topped with cilantro avocado.
A HEARTY AND DELICIOUS CHICKEN TACO SOUP 
We love recipes that hit heavy on the flavor – while still making it easy to keep the calorie count in check. Whether you're sticking to your new year's resolutions, or gearing up for swimsuit weather, eating healthy shouldn't mean you have to sacrifice in the deliciousness department.
Soups are great because they pack a wallop of goodness in an inherently low-cal vehicle.
This slow cooker taco soup gets a boost of deep smokiness from chili powder and smoked paprika – which play so nicely with an aromatic trinity of chopped carrots, garlic and onion. Sweet corn lends pops of texture, while brown rice and black beans fortify this healthy taco soup with heartiness.
We're using chicken breast in this recipe for its savory properties – but you could swap in tofu if you're looking to keep your protein even leaner.
The addition of freshly chopped cilantro and ripe avocado just before serving adds just the right amount of brightness and creaminess to this healthy soup.
And since you'll be using your Tiger multifunctional rice cooker as a slow cooker, making this taco soup recipe is as easy as it gets!
HOW TO MAKE TACO SOUP IN A RICE COOKER
Simply place all your taco soup ingredients (EXCEPT the cilantro and avocado) into the inner pot of your multifunctional rice cooker. Select the Slow Cook function for 60 minutes and press the Start button. That's it!
Your soup will be infused with savory, smokey and tangy flavors in a short amount of time. And we bet everyone around the dinner table will be asking for seconds on no-time-flat!
Products used in this recipe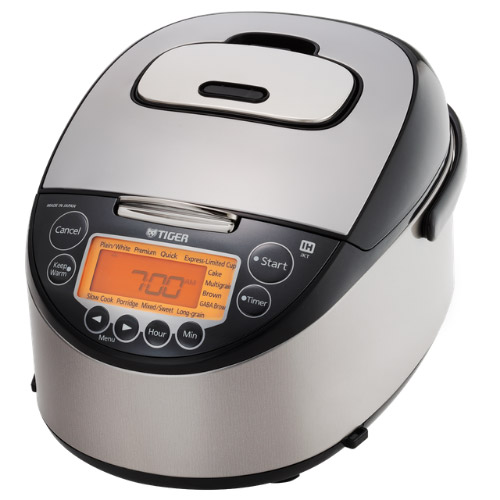 Induction Heating Rice Cooker JKT-D10U/18U
Made in Japan The TIGER JKT-D multi-functional induction heating (IH) electric rice cooker allows yo […]
LEARN MORE