Making corn rice in your rice cooker is a breeze! This popular Japanese rice dish only requires five ingredients and can be served cold or hot. It's kid friendly and very delicious!
Servings

3-4

Preparation
Cooking
Ingredients
2 cups short grain Japanese rice (use the supplied measuring cup)
1 small can corn (8.75 ounces), rinsed and drained
2 tablespoon cooking sake
1 teaspoon salt
2 tablespoons butter
Ground black pepper
Directions
Rinse the rice under cold water and keep swishing the rice around until the water runs clear.
Transfer the rice to the rice cooker inner pot and add water to the 2 cup line for white rice. 
Add the corn, sake, and salt, and stir.
Close the lid, choose  the [Plain] function and press start. 
Open the lid and add the butter. 
Stir well to coat the rice evenly, season with a little ground black pepper and serve.
Corn rice is such a simple recipe that it always surprises those who eat it for the first time. The combination of salty and sweet, crunchy and chewy, all work so beautifully together. It's not wonder why it's become a favorite among the Japanese population! Serve it with your favorite protein or vegetable dish for a nutritious and filling meal.
How to Make Corn Rice
Rinse the rice in a rice washing bowl (do not use a regular strainer as the rice will fall through the holes), or put the rice in a bowl with a little water.
Wash the rice in a zig zag motion using your fingers, until the water runs clear. Drain well.
Put the rice in the rice cooker inner pot and add water, corn, sake, and salt. Stir and close the lid.
Choose the plain function press start.
When the rice is done cooking, open the lid and stir in the butter. Enjoy!
Variations
Use extra virgin olive oil or vegan butter for a healthier option, or to make this recipe vegan.
Top with chopped scallion and 1 tablespoon toasted sesame seeds to add a refreshing crunch and some nuttiness.
How to store corn rice
Let the rice cool to room temperature and transfer it to an airtight storage container. Refrigerate for up to 4 days. To reheat the rice, simply put the container in the microwave, with the lid slightly opened, and microwave on high for 2 to 3 minutes.
Products used in this recipe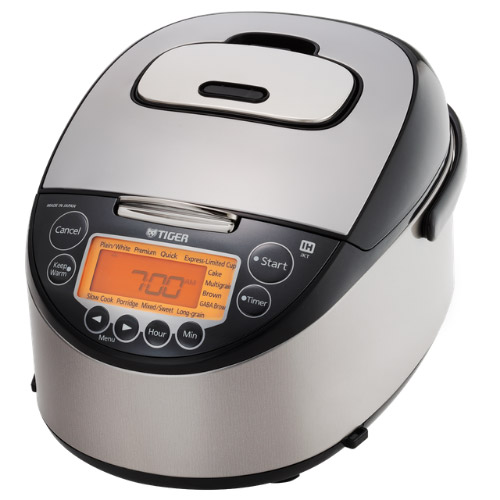 Induction Heating Rice Cooker JKT-D10U/18U
Made in Japan The TIGER JKT-D multi-functional induction heating (IH) electric rice cooker allows yo […]
LEARN MORE