Rice Cooker
Healthy Vegetable Fried Rice (Brown Rice)
It's fried rice time! This savory and healthy vegetable fried rice is made with nutty brown rice and pops of colorful veggies. It's better than takeout!
Ingredients
2 cups uncooked brown rice
1 medium carrot, finely chopped
2 celery stalks, finely chopped
1 small onions, finely chopped
1 tbsp garlic, minced
2 cups water
¼ cup soy sauce
2 tsp sesame oil
½ frozen green peas
1 cup baby spinach, chopped
2 large Eggs, scrambled
Directions
Put the washed rice and water in the inner pot and place it in the rice cooker.
In a bowl, stir in the carrot, celery, onion, garlic, water, soy sauce, and sesame oil.
Pour the mixture over the rice but do not mix.
Select the [BROWN] function and Press the [Start] key.
When cooking is complete, stir in the spinach, scrambled eggs, and frozen peas, and fold into the rice.
Close the lid and leave for about 15 minutes, or until the peas are cooked.
A HEALTHY VEGETABLE FRIED RICE THAT GIVES TAKEOUT A RUN FOR ITS MONEY
We've been going a little crazy with the takeout lately. After long days at work, sometimes a good fried rice recipe – or an order of orange chicken is just what the doctor ordered. Add that to a binge watching session in front of the flatscreen (with a few glasses of vino of course) – and you've got a relaxing antidote to a long day.
Well, give your wallet a break. And don't worry about having to undertake a massive cooking project.
You can make this easy fried rice recipe with the press of a button.
Garlic and onion form a flavorful base for this easy rice recipe. Chopped carrot, celery and baby spinach introduce all the wonderful benefits of the garden without detracting from the umami flavor. And green peas provide little pops of verdant freshness to the mix.
We're using brown rice in this recipe to keep it on the healthier side. Bonus: it has a fantastic, toothsome texture.
But the best thing (aside from the flavor) is how easy it is to make in your rice cooker.
HOW TO MAKE HEALTHY VEGETABLE FRIED RICE IN A RICE COOKER
Place all your fried rice ingredients (EXCEPT the spinach, scrambled eggs and green peas) into the inner pot of your Tiger multifunctional rice cooker.  Select the Brown setting and press the Start button.
In the meantime, scramble a couple of eggs and set them aside.
Once the cooking cycle finishes, fold in your chopped spinach, scrambled eggs and peas.
It's cheaper than takeout – and just as satisfying!
Products used in this recipe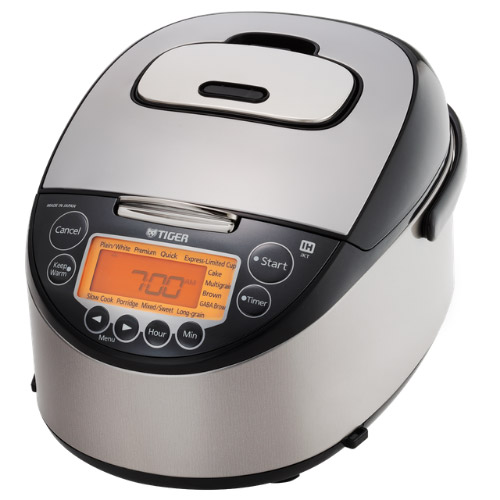 Induction Heating Rice Cooker JKT-D10U/18U
Made in Japan The TIGER JKT-D multi-functional induction heating (IH) electric rice cooker allows yo […]
LEARN MORE