Need to spice things up at dinnertime? We've got you. Get this fiery and umami kimchi rice recipe in your life now!
Servings

3-4

Preparation
Cooking
Ingredients
2 cups short grain Japanese rice (use the supplied measuring cup)
½ cup kimchi, chopped with its juice 
1 tablespoon soy sauce
1 tablespoon rice vinegar
1 teaspoon gochujang
1 ¾ cup water
1 tablespoon sesame oil
Directions
Put the washed rice and water in the inner pot and place it in the rice cooker.
Add the kimchi with its juice, soy sauce, rice, vinegar, gochujang, and water, and stir well. 
Close the lid and choose the [Plain] function. Press start.
When the rice is ready, open the lid and add the sesame oil. Fold and fluff the rice to coat the rice evenly, and serve.
A KIMCHI FRIED RICE RECIPE… WITHOUT THE 'FRIED' PART
We're suckers for kimchi. It's an all out flavor-assault of fiery, pungent perfection.
This fermented Korean cabbage is food science at its finest. And it goes so well with rice.
We're using short grain Japanese rice for this kimchi rice recipe. It has the perfect sticky texture and toothsome bite. And it soaks up all the kimchi goodness as it cooks.
We added a bit of soy sauce and rice vinegar for a one-two-punch of umami and sharp sweetness. And gochujang (Korean red pepper paste) adds another element of earthy funk to the mix. You're going to love it!
And since you're making this kimchi rice in your rice cooker, it's so easy to whip up after a long day at work or school.
Think of it as a kimchi fried rice, minus the actual frying part. Your rice cooker will steam everything to absolute perfection.
HOW TO MAKE KIMCHI RICE IN A RICE COOKER
Simply load all of your ingredients (EXCEPT the sesame oil) into the inner pot of your Tiger multifunctional rice cooker. And don't forget a little kimchi juice for good measure!
Then select the Plain cooking function. Yep – that's the same function you'd use to make plain white rice.
Once the timer sounds off, add your sesame oil and stir it in well. That's it! Dinner is served.
We doubt there will be any leftovers at your house (there never are at ours).
Products used in this recipe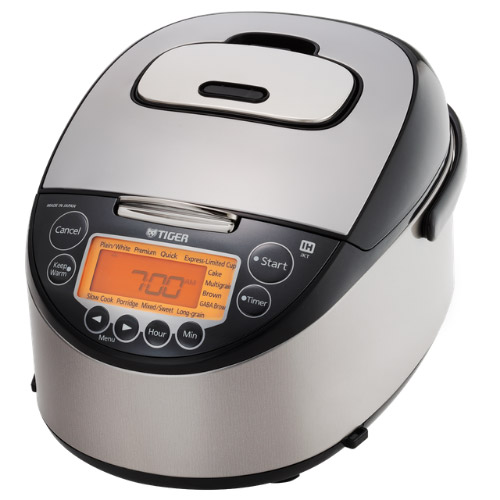 Induction Heating Rice Cooker JKT-D10U/18U
Made in Japan The TIGER JKT-D multi-functional induction heating (IH) electric rice cooker allows yo […]
LEARN MORE