Rice Cooker
Mediterranean Brown Rice Salad
With brightness to spare, this Mediterranean brown rice salad has the flavors of lunch on a breezy terrace in Mykonos. You and your family are going to love it!
Ingredients
2 cups Brown rice (supplied measuring cup)
1/4 cup Red onion or shallots, finely chopped
1/2 Red bell pepper, cored, seeded and chopped
1 cup Baby spinach, chopped
1 Tomato, chopped
1/2 cup Cucumber, finely chopped
1/4 cup Kalamata olives, pitted and chopped
1/4 cup Crumbled feta cheese
2-4 Springs dill, chopped
2 tbsp Vegetable or grapeseed oil
2 tbsp Plain rice vinegar
1 tbsp Dijon mustard
1 tsp Sugar
Salt and pepper, to tase
Directions
Rinse and drain the brown rice and place it in the rice cooker inner pot. Fill the pot with enough water to reach the 2-cup line for brown rice.
Close the lid and choose the [BROWN] function. Press start.
When the rice is cooked, transfer it to a bowl and lightly toss with a spoon. Refrigerate until it reaches room temperature.
Take the rice out of the fridge and stir in red onion, red bell pepper, baby spinach, tomato, cucumber, Kalamata olives, feta cheese and fill.
Make the dressing by combining the oil, vinegar, Dijon mustard, sugar, salt and pepper, and pour it over the salad. Toss well and serve.
A BRIGHT, DELICIOUS BROWN RICE SALAD
We're big fans of bold flavors, bright colors – and meals that won't weigh you down, even if you indulge in an extra helping.
Well, in the case of this delicious and easy brown rice salad, it ticks all of those yummy boxes. One bite and you'll feel like you're in Greece, indulging in a post-beach lunch. And much of that comes down to the simple fresh ingredients in this Mediterranean salad.
Red bell pepper, tomato and red onion add pops of color and brightness. Cucumber, dill and spinach deliver a garden-fresh verdancy.
There's umami from kalamata olives and feta crumbles – paired with the savory shine of a simple vinaigrette made of rice vinegar, oil and dijon. What's not to love!?
And, even though it looks impressive on the table, making it from scratch is as easy as 1-2-3.
HOW TO MAKE A MEDITERRANEAN SALAD IN A RICE COOKER
Making this brown rice salad is as easy as preparing brown rice as you normally would in your Tiger rice cooker.
Once cooked, let the rice cool down in the refrigerator. Then simply add your chopped ingredients and toss well with plenty of the zingy vinaigrette.
It's a no-nonsense and simple process – but delivers a flavor that is outsized, bold and everything you could want from a Greek inspired salad.
Now, when it comes to making salad in your home kitchen, your rice cooker may not be the first appliance you think of. Well, salads come in many forms!
Products used in this recipe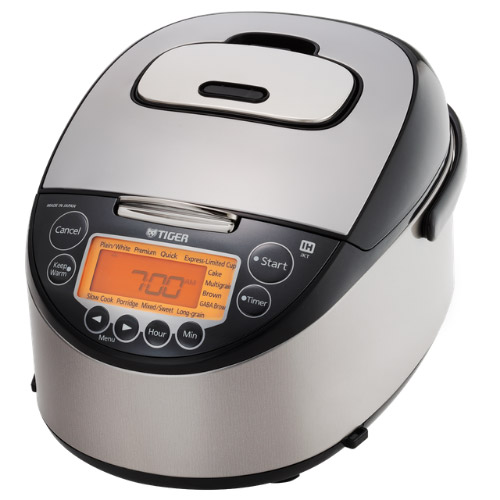 Induction Heating Rice Cooker JKT-D10U/18U
Made in Japan The TIGER JKT-D multi-functional induction heating (IH) electric rice cooker allows yo […]
LEARN MORE