Rice Cooker
Shrimp Avocado Salad
Gluten Free
Synchro Cooking
Shrimp and avocado is an iconic combination.
Whether we're eating a tangy Hawaiian poke or a savory Boston roll (maki), there's just something about creamy avocado and plump tender shrimp that we're powerless to!
And maybe that's why this shrimp avocado salad has been in our steady lunch rotation since, like… forever 🙂
So we're super excited to share this recipe with you, friends!
We're sure you'll love the winning combo of shrimp + avocado just as much as we do – but we think you'll like the other elements in this decadent salad as well.
Because, aside from the usual suspects you'd normally find in a shrimp avocado salad, there are a few surprise ingredients in the mix!
Servings

2

Preparation
Cooking
Ingredients
12 Shrimp
1/6 Cauliflower head
1/4 Onion
2 Cherry tomatoes
1/2 Avocado
4 tbsp Mayonnaise
1 1/2 oz Shredded cheese
Salt and pepper for flavor
Finely-chopped parsley for garnish
Directions
Peel and devein shrimp, then rinse with hot water.
Cut the cauliflower into small pieces, slice the onion thinly, cut the cherry tomatoes in to quarters, and cut the avocado into 3/4 inch cubes
Season the shrimp and vegetables with salt and pepper and place in the tacook cooking plate. Place mayonnaise and cheese on top.
Put the washed rice and water in the inner pot and place in the rice cooker.
Set the cooking plate in the inner pot. Select the [Synchro-Cooking] menu and press the [Start] key.
When cooking is complete, place the dish on a serving plate. Sprinkle with finely chopped parsley.
NOT A TRADITIONAL SHRIMP SALAD RECIPE
This savory cauliflower and avocado salad is one of those shrimp recipe ideas that – once you hear it – just makes sense!
Garden fresh cauliflower and cherry tomatoes are paired with creamy avocado and fresh shrimp, and topped with a hedonistic combination of cheese and mayo.
It's delicious!
And it's super easy to whip up in your rice cooker in a flash.
HOW TO MAKE SHRIMP SALAD IN A RICE COOKER
To make this shrimp avocado salad in the easiest way possible, look no further than your rice cooker!
You see your Tiger multi cooker comes with a Tacook cooking plate that allows you to steam rice AND another composed dish at the same time.
It's a capable little kitchen appliance that takes the guesswork out of dinner… So you can make anything from a French pot-au-feu to this cheesy avocado and cauliflower salad with shrimp with the press of a button!
And the best part (aside from the flavor) is that you don't have to speculate whether your food is ready or not.
Using the Synchro-Cooking function means your rice will be perfectly steamed – and your creamy avocado shrimp salad will be flawless.
The only thing left to do now is eat… and enjoy!
Products used in this recipe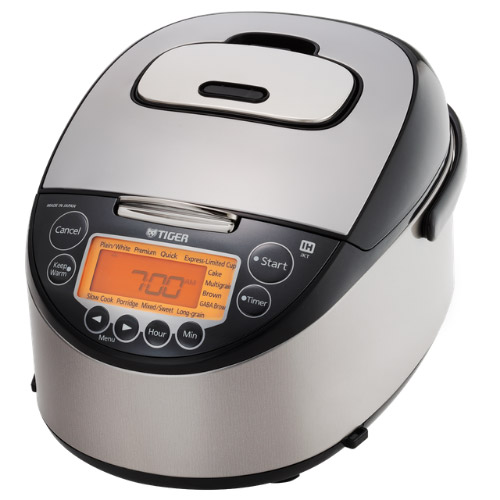 Induction Heating Rice Cooker JKT-D10U/18U
Made in Japan The TIGER JKT-D multi-functional induction heating (IH) electric rice cooker allows yo […]
LEARN MORE