Looking for a side dish that can be the star of the dinner? Well, look no further than this simple, delicious carrot rice recipe. And when you use your rice cooker, you'll be cooking with the press of a button!
Ingredients
2 cups Uncooked brown rice (supplied measuring cup)
2 tsp Powdered chicken or vegetable stock
Water, enough to reach the 2 cup line inside the rice cooker inner pot. 
1 Large carrot, grated
¼ cup Onion, finely chopped
1 tbsp olive oil
Salt and pepper to taste
Directions
Rinse rice until the water runs clear. Add it to the rice cooker inner pot.
Add the remaining ingredients and stir well.
Choose the [BROWN] function and press start.
Once complete, season with salt and pepper and serve.
A SIMPLE RICE SIDE DISH THAT EATS LIKE A MEAL
Brown rice is nutty and delicious on its own. But you don't have to reinvent the wheel to kick the flavors up a notch – and create a rice side dish that will be the star of the dinner plate.
This carrot rice recipe is loaded with plenty of striking color and savory goodness. And even though it is as simple to make as a batch of plain brown rice, it tastes anything but plain.
Think of it as rice pilaf plus.
You see, there's a ton of earthy, natural sweetness in carrots that infuses into the grains as it cooks together.
Add the homestyle, savory flavor of chicken stock (use vegetable stock if you're making a vegan rice recipe) for a taste that is super comforting.
All you'll need after that is a bit of extra virgin olive oil, chopped onion and a little salt and pepper. How's that for a simple ingredients list!? You probably have everything you need for this carrot rice recipe sitting in your pantry right now.
And if you find these rustic and humble ingredients a breeze to gather up, you'll really love how easy it is to make in your rice cooker!
HOW TO MAKE CARROT RICE IN A RICE COOKER
This is one of those rice cooker recipes that really is as simple as closing the lid and pressing the Start button.
Add all the ingredients for this carrot rice recipe to the inner pot of your Tiger multifunctional rice cooker and select the Brown Rice cooking preset.
Yep – that's really all there is to it!
Your rice cooker will cook the grains perfectly and ensure they are infused with the heady essence of your carrots, onions and stock.
Products used in this recipe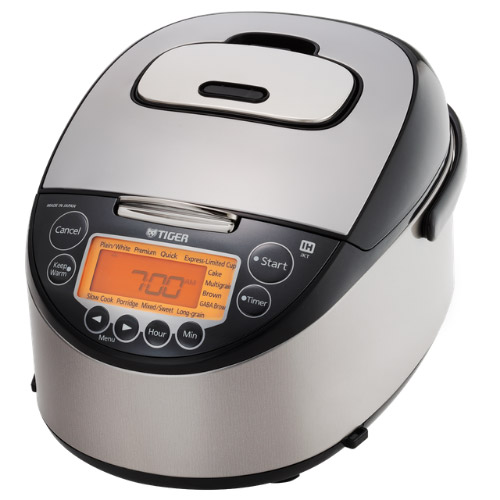 Induction Heating Rice Cooker JKT-D10U/18U
Made in Japan The TIGER JKT-D multi-functional induction heating (IH) electric rice cooker allows yo […]
LEARN MORE