Rice Cooker
Cabbage and Mushroom Rice
Make this savory cabbage and mushroom rice in your rice cooker with the press of a button. The only thing better than how easy it is to make is the bold flavor!
Ingredients
1 cup Short grain Japanese rice
2 tbsp Oyster sauce
2 tbsp Soy sauce
1 tbsp Vegetable oil
5 Dried shiitake mushrooms soaked in 1 1/2 cup water
1 Medium carrot, sliced
2 Scallions, finely chopped
1 cup Cabbage, chopped bite size
Directions
Soak shiitake mushrooms in water for 30 minutes. Take shiitake mushrooms out of the water and set the water aside as you will need it to cook the rice. Squeeze the shiitake mushrooms to remove excess water and chop them.
Add rice, shiitake mushrooms, oyster sauce, soy sauce, vegetable oil, carrot, scallion, and enough of the water used to soak the shiitake mushrooms to reach the 1 cup line of the Plain rice option.
Stir and select [Plain] menu. Press [Start].
Gently mix the rice before serving.
AN EASY RICE RECIPE WITH SIMILARITIES TO RICE PILAF, TAKIKOMI GOHAN, ETC
With bright veggies like carrots, cabbage and scallions – and savory flavor elements like mushroom broth, oyster sauce and soy sauce – this is one rice recipe that you'll be wanting all the time! The flavor is unreal. And whether you choose to make it as a main course or as a side dish – it's so easy to prepare, we think it'll make it into your steady dinner rotation.
Now, we see more than a few similarities between this rice and mushroom recipe – and a popular Japanese mixed rice recipe called takikomi gohan. Check out our rice cooker takikomi gohan recipe here.
But it may surprise you that this mixed rice recipe has similarities to a very well known Western side dish: rice pilaf. You see rice pilaf is rice that is cooked in broth as opposed to plain water. And many times, the rice will have veggies or small bits of protein added. Try out our salmon and mushroom rice pilaf recipe here.
In the case of this mushroom, cabbage and rice recipe, the cooking broth is created by soaking dried shiitake mushrooms in water until the flavor is infused into a fragrant cooking liquid. It produces a mushroom rice that is both loaded with umami yet super light.
HOW TO MAKE MUSHROOM RICE IN YOUR RICE COOKER
This is the easy part!
After creating your easy shiitake mushroom broth, just chop your veggies and measure out your sauces. Place everything into the inner pot of your Tiger rice cooker and cover with broth (see the recipe tab on this page for exact amounts).
Then simply select the Plain cooking preset (yep, that's the same setting you'd use for regular rice) and press the Start button. That's it! Told you it was easy😃
Bon appetit!
Products used in this recipe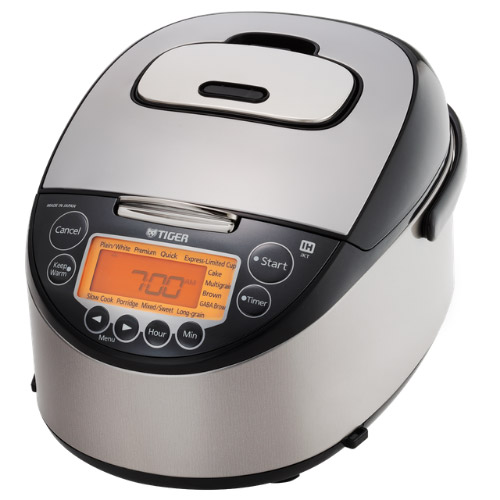 Induction Heating Rice Cooker JKT-D10U/18U
Made in Japan The TIGER JKT-D multi-functional induction heating (IH) electric rice cooker allows yo […]
LEARN MORE