Rice Cooker
Salmon and Mushroom Rice Pilaf
We're on a quest to keep it easy AND delicious at dinnertime.
Ending boring meals (and eating like champions in the process) is just something we're plain passionate about!
However, sometimes delicious food gets saddled with the idea that it must be super complex to make at home.
Well, luckily we've got an incredibly delicious salmon and mushroom rice pilaf recipe that will be a complete hit with your friends and family.
Bonus: you can make this refined and complex tasting salmon and rice pilaf recipe at home in two easy steps.
Let's cook!
Servings

4

Preparation
Cooking
Ingredients
3 cups Rice (Using exclusive measuring cup included with rice cooker)
3 oz (80 g) Salmon fillet
Salt, pepper and white wine for flavor
1 tbsp Butter
2 Button mushrooms
1/4 pack Shimeji mushrooms
1 Shiitake
1/4 pack Maitake mushrooms
1/2 (3/4 oz / 20g) Carrot
1/8 Onion
1/2 Garlic clove
3/4 cup (200 ml) Tomato juice
1 Chicken soup stock cube
Salt and pepper for flavor
1 Bay leaf
Directions
Season the salmon with salt and pepper. Melt the butter in a frying pan and grill the surface of the salmon. Add some white wine.
Chop carrots, onions and garlic finely, separate shimeji and maitake mushrooms, slice the shiitake and white mushrooms. Saute all in a frying pan.
Place the washed rice in the inner pot, add the tomato juice and fill with water up to level 3 of the "Plain" scale (level 6 for the 10-cup cooker). Add the crushed soup stock cube, salt, and pepper and mix in well. After all the sautéd ingredients have cooled, place them in the inner pot. Place a bay leaf on top and set in rice cooker. Select the "Mixed" menu and press the [Start/Rinse-free] key.
When cooking is complete, take out the bay leaf and place the dish on the serving plate. Sprinkle with finely chopped parsley.
WHAT IS RICE PILAF?
At its core, rice pilaf is plain rice that is cooked with a broth or a flavoring agent instead of simply plain water.
For this salmon and mushroom rice recipe, we're using a combination of chicken stock and tomato juice. YUM!
Veggies like onions, garlic, carrots (and in this case mushrooms) are often added to cook alongside the rice and broth.
While pilaf is an easy rice recipe to whip up in a pot on the stove-top or in a rice cooker, it ends up tasting anything but. That's because the bouquet of flavor from the broth and veggies gets in to every pore of the rice.
You might just say it's infused with deliciousness!
And much like this autumn rice pilaf with chicken, we think you'll be adding this salmon, rice and mushroom recipe to the steady rotation at your place – both because of the flavor, and how easy it is to make.
AN EASY SALMON AND MUSHROOM RICE RECIPE YOU CAN MAKE IN A RICE COOKER
For an added layer of flavor, we're giving the salmon, veggies and mushrooms a quick tumble in a saute pan for a bit of umami caramelization.
Then, everything goes into the inner pot of your rice cooker.
Simply use the Mixed preset on your Tiger multicooker – and your salmon fortified mushroom rice pilaf will cook to perfection.
And, there's no need to keep your eye on it. When the timer goes off, dinner is served.
Easy, right!?
We think you're going to love making this rice pilaf recipe! It's that rare perfect mix of simple AND absolutely scrumptious!
Products used in this recipe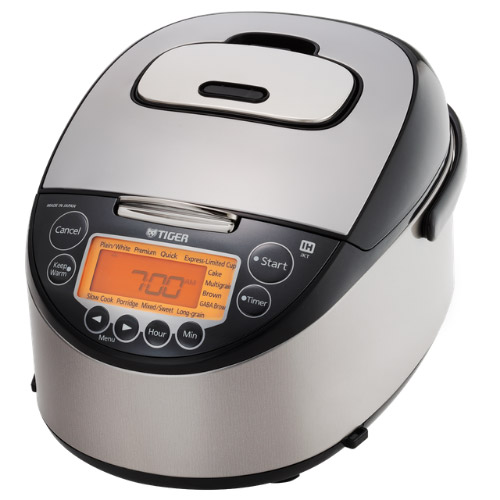 Induction Heating Rice Cooker JKT-D10U/18U
Made in Japan The TIGER JKT-D multi-functional induction heating (IH) electric rice cooker allows yo […]
LEARN MORE