It's brownie time! Make these sweet and delicious homemade chocolate brownies for dessert tonight. Your future self will thank you!
Servings

3-4

Preparation

10 min

Cooking

40 min
Ingredients
50g All-purpose flour or pancake flour,
40g Pure cocoa powder
5g Baking powder
50g Sugar
1 Large egg, whisked
1 cup Milk or unsweetened oat milk
Cooking spray
Directions
Sift the flour, cocoa powder, and baking powder in a mixing bowl. 
Add the sugar and stir. 
Add the egg and milk and stir until the batter is smooth. 
Spray the rice cooker inner pot with cooking spray and pour the batter in.
Select the [Slow Cook] function and set the timer to 40 minutes. Press start.
A DELICIOUS HOMEMADE CHOCOLATE BROWNIE RECIPE 
There's something so satisfying about making a homemade dessert. When the people we care about dig into something we created with love – and their eyes light up… Well, that's about the best feeling in the world.
Great news, today you'll be making brownies from scratch. And it's way easier than you might think!
Now for this easy brownie recipe we're starting with a base of flour. Use what you've got handy in the pantry already. However, if you can, we definitely recommend using pancake flour for these rice cooker brownies. It just delivers something extra.
Now since baking is basically science, we're not going to rock the boat with a bunch of crazy ingredients. There's the usual baking powder, sugar, egg and milk mixture. But we will say that using pure cocoa powder in the mix should be priority #1. You'll definitely taste it in these homemade brownies.
We're suckers for that iconic crispy cooked exterior, countered by an interior that is soft, moist and cakey. If you feel the same way, you're at the right place!
HOW TO MAKE BROWNIES IN A RICE COOKER
Sift your powdered ingredients into a mixing bowl, then stir in your sugar. Add a whisked egg and milk and stir until your batter is smooth without any large lumps.
We'd recommend spraying the inner pot of your Tiger multifunctional rice cooker with a bit of cooking spray before pouring the batter inside.
It'll only take 40 minutes on the Slow Cook setting to cook your brownies to perfection.
We bet there will be a lot of smiles at the dinner table when this moist, chocolatey dessert makes an appearance!
Products used in this recipe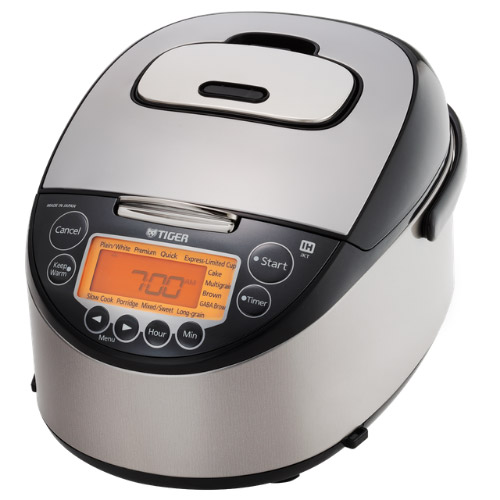 Induction Heating Rice Cooker JKT-D10U/18U
Made in Japan The TIGER JKT-D multi-functional induction heating (IH) electric rice cooker allows yo […]
LEARN MORE