Rice Cooker
Non-Alcoholic Mulled Wine
We've got a holiday drink for the whole family! Make this non alcoholic mulled wine with the press of a button in your rice cooker, and grab a seat by the fireplace.
Servings

3-4

Preparation

10 min

Cooking

45 min
Ingredients
3 Anise pods
2 Cinnamon sticks
A few cloves
1 tbsp Brown sugar
1 Small orange, cut into round slices, with the peel
Directions
Add all the ingredients to the rice cooker inner pot and choose the [Slow Cook] function. Set the timer to 45 minutes and press start.
Serve warm.
WHAT IS MULLED WINE?
Mulled wine is a sweetened spiced wine, typically heated up and flavored with spices like cinnamon, cloves and star anise. Also called Gluhwein, it's a hugely popular red wine based drink enjoyed in cold weather, mostly around the holidays.
In fact, the Christmas market wouldn't quite have the same warmth without a cup (or three).
Well we've made a mulled wine recipe the whole family can enjoy!
Sure, we had to subtract the actual red wine from the equation. However cranberry juice warmed with mulling spices totally hits the spot on a snowy day at the ice-skating rink or spent around the fireplace with loved ones.
Star anise, cloves and cinnamon impart a rich, woody essence to the tartness of the cranberry juice. And orange slices lend their sweet freshness to create a virgin drink that has many of the same flavor properties of the original.
And this non alcoholic mulled wine is super easy to whip up in your rice cooker!
HOW TO MAKE MULLED WINE IN A RICE COOKER
Simply add all of your ingredients to the inner pot of your Tiger multifunctional rice cooker. Use the Slow Cook function for 45 minutes – and you're good to go!
Once the timer sounds off, you can serve it up. This non alcoholic mulled wine delivers the flavor of the holidays, just minus the usual booze.
Your kids are going to love it. And we think you will too!
Products used in this recipe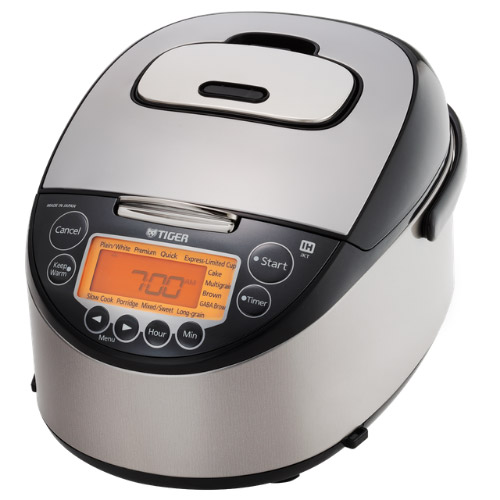 Induction Heating Rice Cooker JKT-D10U/18U
Made in Japan The TIGER JKT-D multi-functional induction heating (IH) electric rice cooker allows yo […]
LEARN MORE