Water Boiler
Hot Apple Cider With Cinnamon
You know what they say: An apple a day…
And we think that's a pretty on-point life tip indeed. Because, even of you're not into the many health benefits of apples, they simply taste out-of-this-world amazing.
Hey, it's no secret how we feel about apples. Feel free to check out our recipe for apple butter made in a rice cooker for a little background on some of the great things you can do with our our favorite autumn fruit!
But, what about those times you're craving a warming, homemade hot apple cider on a cold night – but are fresh out of apples and the grocery store is closed?
Don't sweat it. We've got you!
With a few simple pantry ingredients – and your Tiger water boiler and dispenser – you can whip up a delicious and tangy cinnamon spiced apple cider in no time.
Servings

1

Preparation

5 min

Cooking

5 min
Ingredients
1 cup hot water
2 tbsp lemon juice
2 tbsp apple cider vinegar
1 tbsp maple syrup
1 cinnamon sticks
Directions
1. Add lemon juice, apple cider vinegar and maple syrup in a mug.
2. Dispense hot water from the water boiler and mix
3. Add cinnamon stick if desired and enjoy
HOW TO MAKE APPLE CIDER AT HOME (THE EASY WAY)
We feel your pain. It's the holidays and all your family and friends are cozy – binge watching shows in the living room. The only thing missing from this equation are mugs of homemade apple cider to complete the holiday cheer.
But a trip to the store in sub-zero temps for apples (or pre-made cider) is not in the cards.
Just head to the pantry and grab your apple cider vinegar. We're going to kitchenhack a hot cider recipe everyone will love!
Seriously, a bit of lemon juice, tart apple cider vinegar and some maple syrup for sweetness is all it takes to approximate your favorite cider!
Just add hot water from your Tiger hot water dispenser – and a cinnamon stick for that kick of holiday spice – and you're set!
Bonus: your Tiger water boiler has multiple temperature presets so everyone will get their perfect mug of cider.
Grandpa likes it hot? No problem – 208°F for grandad.
Cousins like their cider on the cooler side of hot? Let's go 176°F for them. Their mugs will be juuuust right!
BENEFITS OF APPLE CIDER VINEGAR
Like most fermented foods, apple cider vinegar is packed with goodness. It has been known to moderate blood sugar levels, lower cholesterol and has even been known to relieve some of the symptoms of acid reflux. Nice!
But aside from being good for you, it just happens to make a mean mug of hot apple cider when mixed with just a few common pantry ingredients!
That's a wintertime win/win for sure!
Products used in this recipe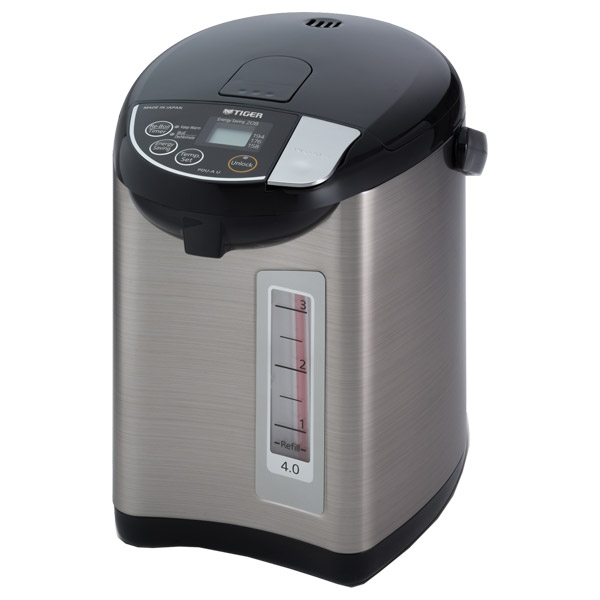 Microcomputer Controlled Water Boilers & Warmers PDU-A30U/40U/50U
Made in Japan Tiger's electric water boiler and warmer has a large LCD control panel for easy operation. It ha […]
LEARN MORE