Rice Cooker
Fish and Daikon Stew
Gluten Free
Quick
Vegan
Vegetarian
Looking for traditional Japanese flavors to grace your table this dinnertime? Look no further! This fish and daikon stew is a traditional washoku meal found in Japanese household and restaurants throughout the country.
Servings

2-3

Preparation

20 min

Cooking
Ingredients
8 ounces salmon, yellowtail, or arctic char fillets
8 ounces daikon radish, peeled and chopped into half moons, ½-inch thick
1 tablespoon ginger, peeled and sliced into thin sticks ( add an additional tablespoons for more heat)
200ml water
2 tablespoon soy sauce
1 tablespoon mirin
1 teaspoon sugar
Directions
Mix all the ingredients for the sauce in a bowl and keep stirring until the sugar has dissolved. Set aside.
Put the fish, daikon, and ginger, in the rice cooker inner pot and pour the sauce over.
Close the lid and select the [QUICK] function. Press start.
Stir well and serve.
The dish is categorized as "nimono", or boiled food, which is typically in the form of stews. The strong savory-sweet-umami taste pairs beautifully with simple sides such as a bowl of white rice and miso soup.
The combination of moist and tender salmon, spicy ginger slices, and refreshing daikon pieces, makes this dish a standout.
HOW TO MAKE FISH AND DAIKON STEW
Chop the salmon and daikon into bite size pieces.
Slice the ginger into thin sticks.
Add all of the above ingredients to the rice cooker inner pot.
Mix the ingredients for the sauce in a bowl and add it to the inner pot.
Close the lid and select the Quick function. Press start.
VARIATIONS
Use other firm fish such as arctic char or tuna.
Use a mix of daikon and carrot to add a little sweetness.
Sprinkle with ichimi before serving for extra heat.
HOW TO STORE LEFTOVER FISH AND DAIKON STEW
It should be noted that this recipe tastes best when eaten right out of the rice cooker because of the incredible tender texture of the fish.
Let the stew cool to room temperature first and transfer it to an airtight storage container. Refrigerate for up to 3 days.
To reheat, microwave on medium for 45 seconds. The stew tastes better the second time when it's not too hot, to avoid the fish from overcooking.
Products used in this recipe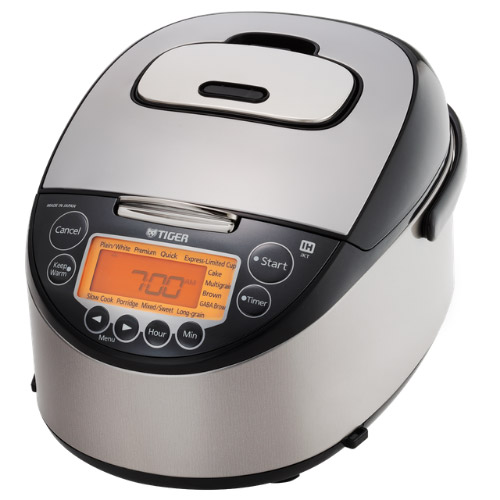 Induction Heating Rice Cooker JKT-D10U/18U
Made in Japan The TIGER JKT-D multi-functional induction heating (IH) electric rice cooker allows yo […]
LEARN MORE