Rice Cooker
Japanese Cream Chicken Stew
Cream chicken stew is a popular Japanese dish served in the fall and winter time, when our bodies crave something hearty and comforting. The combination of tender chicken, sweet carrots, and creamy sauce, makes this dish a favorite among moms and dads looking for something simple that's also kid friendly.
Servings

3-4

Preparation

15 min

Cooking

50 min
Ingredients
10 ounces, boneless, skinless, chicken breast, chopped bite size
2 garlic cloves
1 medium onion
1 large potato, peeled and chopped
1 large carrot, chopped
6-8 button mushrooms, halved
300 ml water or low sodium chicken broth
1/2 tsp powdered chicken stock (skip this ingredient if you are using chicken broth)
1 tbsp butter
2 ½ tbsp all-purpose flour
½ cup milk
1/2 cup frozen green peas, thawed
Salt and pepper, to taste
Directions
Put the chicken, garlic, onion, potato, carrot, mushrooms, water, powdered chicken stock, and butter, in the rice cooker inner pot, and stir. 
Close the lid and select the [Slow Cook] function. Set the timer to 50 minutes. Press start. 
While the ingredients are cooking in the rice cooker, sift the flour into a bowl and slowly stir in the flour. Set aside.
Where there is 20 minutes left to the cooking process, open the lid and stir in the milk and flour mixture. 
Add the green peas, stir, and close the lid. 
Season with salt and pepper if needed, and serve. 
Simply called "cream stew" or "white stew" in Japan, the dish is reminiscent of the classic French recipe "blanquette de veau" which is a simple veal stew cooked in stock and heavy cream. The flavors are delicate, combining both sweet and savory. It's a dish that goes down easily and never gets boring to eat!
HOW TO MAKE JAPANESE CREAM STEW
While the original recipe requires you to brown the chicken and create a roux, we've omitted those steps to keep it as quick and easy as possible.
Simply chop the chicken and vegetables and add them to the rice cooker inner pot along with the water, powdered chicken stock, and butter.
Use the Slow Cook function and set the timer to 50 minutes. Press start.
Mix the flour and milk in a bowl and set aside.
At the 30-minute mark, open the lid, add the frozen green peas and stir in the milk and flour mixture.
Close the lid and continue cooking for the remaining 20 minutes.
VARIATIONS
Use extra firm tofu instead of chicken for a healthier meal.
Use a leek instead of an onion for a sweeter cream stew.
Add a splash of soy sauce after the cooking is done to infuse a little umami.
HOW TO STORE JAPANESE CREAM CHICKEN STEW
Let the dish cool to room temperature first and then transfer it to an airtight storage container. Refrigerate for up to 4-5 days.
Products used in this recipe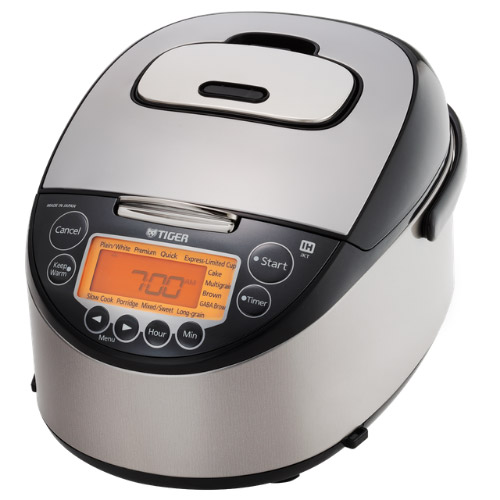 Induction Heating Rice Cooker JKT-D10U/18U
Made in Japan The TIGER JKT-D multi-functional induction heating (IH) electric rice cooker allows yo […]
LEARN MORE