Rice Cooker
Slow Cooker Spanish Bean Stew
This hearty slow cooker bean stew is inspired by the Mediterranean flavors of Spain. It's simple to make in your rice cooker, and bursting with savory goodness!
Servings

3-4

Preparation

15 min

Cooking

50 min
Ingredients
2 tbps Extra virgin olive oil
2 Garlic cloves, minced
1 Small onion, finely chopped
2 15.5 ounces Canned cannellini beans, rinsed and drained
1 ½ cup Canned diced tomatoes
½ cup Water
2 tsp Smoked paprika
1 tbsp Cumin powder
½ tsp Dried thyme
Salt and pepper, to taste
Directions
Place all the ingredients in the rice cooker inner pot and stir well. 
Close the lid and select the [Slow Cook] function. Set the timer for 50 minutes and press Start. 
Serve with bread and butter.
A SLOW COOKER BEAN STEW INSPIRED BY SPANISH FLAVORS
Some delicious magic happens when you slow cook beans, tomatoes, garlic and onions. And while simple dishes are great because they're easy to make, there's nothing better than a stew that keeps the ingredients list short – and still some evokes the home-cooked flavors a Valencian grandmother (that we all wish we had) might evoke in a bubbling pot of her secret family recipe.
Warming spices like cumin and paprika mix with the herbaceousness of dried thyme to bring mountains of flavor to this comfort-food classic.
And aside from tasting amazing, this vegan bean recipe is a breeze to whip up in your rice cooker!
HOW TO MAKE BEAN STEW IN A RICE COOKER
Making this Mediterranean inspired slow cooker bean stew in your rice cooker is as easy as it gets!
Simply place all of the ingredients into the inner pot of your Tiger multifunctional rice cooker and stir well. Select the Slow Cook function for 50 minutes and press Start.
Your Spanish bean stew will develop a ton of savory, slow-cooked flavor in a relatively short amount of time – and you'll be freed up to work on other elements of your meal. Or grab a glass of vino and a good book and put your feet up. You've earned it!
When the timer sounds off, stir and serve. This yummy vegan bean stew would go super well with pan con tomate. Just saying.
And since you made this Spanish bean stew in your rice cooker, whoever is scheduled for after-dinner cleanup duty will get off pretty darn easy.
Products used in this recipe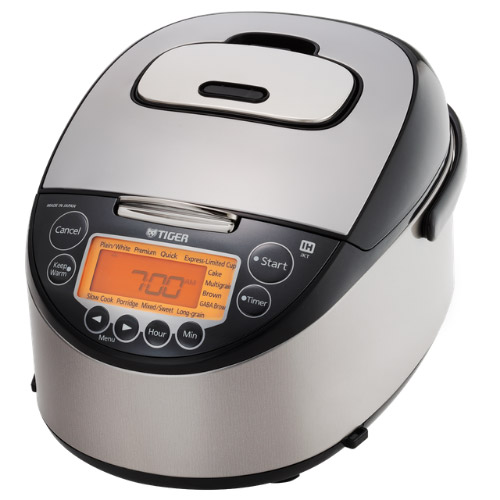 Induction Heating Rice Cooker JKT-D10U/18U
Made in Japan The TIGER JKT-D multi-functional induction heating (IH) electric rice cooker allows yo […]
LEARN MORE