Rice Cooker
Chicken Basquaise
Rice Cooker Setting: Slow Cook
Chicken Basquaise (poulet Basquaise) is one of those beautiful French chicken dishes that hails from the south of France. It's a simple recipe mainly consisting of chicken, onions and peppers that are cooked in a tomato and white wine sauce. And to add comfort to this Basque recipe, we've added potatoes and bacon to keep you warm this winter season! This is a no fail recipe that your entire family will fall in love with. Bon appétit!
Servings

3-4

Preparation

20 min

Cooking

30 min
Ingredients
3/4 lb (300 g) Chicken thigh
1/2 Onion
1 Garlic 1 clove
1/8 lb (60 g) Bacon (chunk)
1 Green bell pepper
1/2 yellow or red bell pepper
4 Black olives
1/2 Canned whole tomatoes
1 Potato
2 tbsp Olive oil
1/4 cup (50 ml) White wine
1/8 Soup stock cube
1/4 cup (50 ml) Water
1 Bay leaf
Salt for flavor
Finely-chopped parsley for garnish
Directions
Cut chicken into bite size pieces and season with salt and pepper.
Slice bacon and bell peppers into strips. Peel potatoes and cut it into quarters. Cut black olives into halves.
Chop the garlic and onions finely.
Wipe off any water remaining on the chicken and dredge it with flour. Pre-heat olive oil in fry pan, grill the chicken and then place in the inner pot.
In a same frying pan, saute the garlic and onions until soft. Add bacon, bell peppers, potatoes and olives to the frying pan. When vegetables are tender, add to the inner pot.
Add white wine, crushed soup stock cube, water, roughly crushed tomato, salt, pepper and bay leaves in the inner pot. Heat the pot for 30 minutes (40 minutes for the 10-cup cooker) with the "Slow Cook" menu.
When cooking is complete, season with salt and pepper and place the dish on a serving plate. Sprinkle with finely-chopped parsley.
What is chicken Basquaise?
The word Basquaise refers to the French region of Basque, located in south western France. It's a simple stew made from chicken, peppers, onions and tomatoes. And while the recipe couldn't be more simple to execute, the flavor combination is one that's quite unique to this region.
For this poulet Basquaise recipe we are using the Slow Cook setting to give this French classic a hearty kick. You could technically throw all the ingredients into your Tiger multi cooker and press start – by all mean do it if you are in a rush since it will still taste delicious! – but we prefer to stick to the traditional method of braising.
This means briefly pan frying the chicken and vegetables before adding them to the multi cooker. By doing so we are helping the flavors of the chicken, onions, peppers, and potatoes blend nicely with the flavors of the liquid (white wine, stock and tomatoes).
The result is a comforting chicken stew that's hearty, rich and filling. It's the perfect dish to serve on a cold winter's night and that can be enjoyed with with friend or family.
The use of bacon is also optional if you are looking to cut down on fat and calories. Simply take it out of the recipe and voilà – a healthier version of chicken Basquaise is at your fingertips!
Products used in this recipe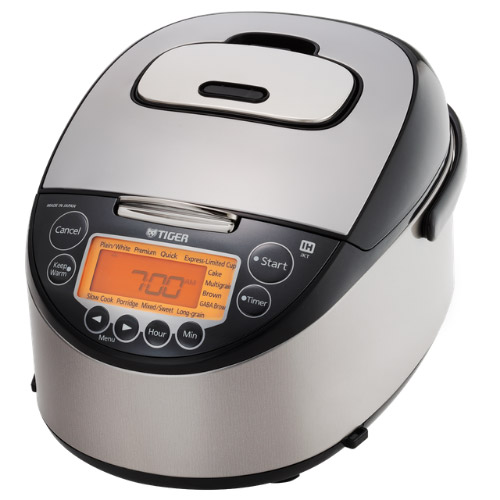 Induction Heating Rice Cooker JKT-D10U/18U
Made in Japan The TIGER JKT-D multi-functional induction heating (IH) electric rice cooker allows yo […]
LEARN MORE