Rice Cooker
Oden (おでん) With Yuzu Essence
Japanese
Seasonal
Slow Cook
Ever been to a kombini (Japanese convenience store) in the cold winter months?
If so, you've probably seen and smelled the slow simmered wonder that is oden. It's the absolute best!
And, while we're BIG proponents of cooking at home, we'll always have a soft spot in our hearts for the trips to the convenience store we took as kids in Japan for a warming bowl of oden.
Hey, nothing beats a steaming bowl of savory and sweet winter veggies, eggs, Japanese fish cakes and konnyaku.
Trust us, It's the unsung heroic antidote to the winter blues. And – great news – you can easily make this comfort food classic in your rice cooker from the comfort of your own home!
Rice Cooker Setting: Slow Cook
Servings

3-4

Preparation

20 min

Cooking

65 min
Ingredients
2 Daikon radish (cut into 1 inch slices)
2 Potatoes (small)
2 Chikuwa (tube shaped fish cake)
1 Block of Konnyaku
2 Ganmodoki (fried tofu ball)
2 Egg (medium size)
2 Stick of beef tendon
4 inches (10 cm) Kombu
1 Yuzu (Japanese citrus)
3-1/3 cups (800 ml) Dashi (Japanese soup stock)
1/3 cup (75 ml) Sake (rice wine)
1/3 cup (75 ml) Usukuchi (light) soy sauce
1/3 cup (75 ml) Mirin
1 tbsp Sugar
1/2 tsp Salt
Mustard and chopped green onion for flavor
Directions
Peel daikon rounds and lightly score with a knife. Soak in water leftover from the washed rice. Sprinkle salt the konnyaku and squeeze to remove any harsh taste. Make lines in the konnyaku, cut into triangles, and boil.
Boil the eggs and pour hot water over the gammodoki to rinse off any excess oil. Cut the chikuwa in half diagonally.
Boil the potatoes with the skin and then remove.
Place the beef tendon into hot water. Moisten and soften the kombu with extra sake. Cut into 1/2 inch (1 cm) wide strips and tie into a knot.
Mix the oden soup in the inner pot. Add the ingredients, and then heat for 60 minutes with the "Slow Cook" menu. Add the yuzu after scoring the surface, and heat for 5 more minutes.
When cooking is complete, place the dish on a serving plate. Serve with Japanese mustard and chopped green onion as desired.
WHAT IS ODEN?
Oden (おでん) is a slow simmered Japanese dish that typically contains fish cakes, atsuage (deep fried tofu), fish balls, carrots, daikon, hard boiled eggs and konjac (or konnyaku) – served in a savory and sweet soy sauce and dashi broth.
While it has become more and more common in recent years to see oden in convenience stores and on restaurant menus year round in Japan, it has historically been a dish served in the cold weather months.
WHAT IS KONJAC?
Konjac / konnyaku is a firm yet gelatinous mixture of a taro-like potato and hijiki seaweed powder.
Low in calories and high in fiber, konnyaku is known almost as much for its health properties as it is for its subtle oceanic flavor.
This wonderful ingredient is almost always included as a filling element in oden.
WHAT IS YUZU?
Yuzu (ユズ) is a Japanese citrus fruit that looks like a smallish, uneven grapefruit. Bearing a yellow or green skin, you might say yuzu has the tartness of a grapefruit, mixed with the sweetness of an orange.
Now – full disclosure – yuzu can be tough to find outside Japan. Therefore, for this oden recipe, feel free to substitute a splash of bottled yuzu juice – or a splash of lemon juice. (A little goes a long way in this recipe!)
ODEN IN A RICE COOKER?
Yep!
Simply use the Slow Cook function on your Tiger rice cooker to make this simmered winter dish in no time.
Itadakimasu!
Products used in this recipe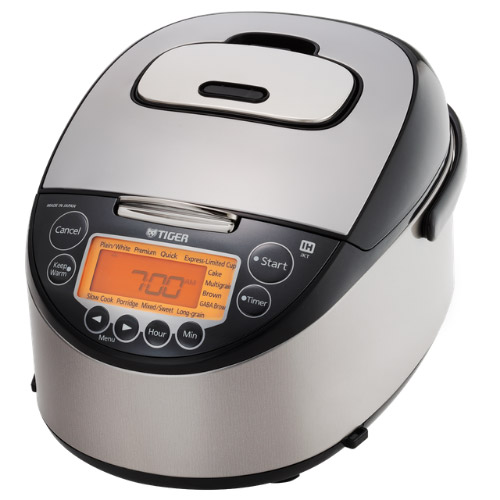 Induction Heating Rice Cooker JKT-D10U/18U
Made in Japan The TIGER JKT-D multi-functional induction heating (IH) electric rice cooker allows yo […]
LEARN MORE