Rice Cooker
Black Tea Chiffon Cake
There's always room for dessert, right?! This black tea chiffon cake is mildly sweet, airy and perfumed with English breakfast tea leaves.
Servings

3-4

Preparation

15 min

Cooking

60 min
Ingredients
1 cup all-purpose flour
2 teaspoons baking powder
3 tablespoon granulated sugar
2 teaspoons loose English breakfast tea leaves or other black tea leaves
110ml milk or unsweetened oat milk
2 large eggs
80g granulated sugar
1 tablespoon grapeseed oil
Directions
Mix the flour, baking powder and 3 tablespoons sugar in a bowl and set aside.
Place the tea leaves and milk in a bowl and microwave for 50 seconds. Take the tea out of the microwave and let cool to room temperature.
Divide the yolk from the egg white and keep them in two separate bowls.
Put the egg yolks and 40g of sugar in a bowl and using a hand mixer, mix for 3 minutes on medium speed, or until the mixture turns a light yellow.
Add the tea leaves and milk mixture, flour mixture, and oil, and mix for 1 minute. Set aside.
In a separate bowl, add the egg whites and using a hand mixer, mix on medium high speed until the egg whites turn into a foam. Slowly add the remaining 40g sugar and keep on mixing until the meringue is solid enough to form peaks.
Add the meringue to the dough mixture and fold it – do not stir – a few times until it's evenly mixed.
Spray the rice cooker inner pot with cooking spray and pour the cake mixture in. 
Either choose the [Cake] mode or [Slow Cook] mode. For Slow Cook mode, set the timer for 60 minutes. Close the lid and press start. 
Flip the cake onto a plate and serve.
THIS BLACK TEA CHIFFON CAKE IS YOUR NEWEST DESSERT OBSESSION
At the end of a delicious meal, we consider dessert more of a 'must' than an 'option'. Whether it's a rice pudding or a peach upside down cake, we think a little sweetness at the end of dinner goes a long way.
Well, get those tiny forks ready, because today we're talking chiffon cake… black tea chiffon cake to be exact.
This pillowy cake isn't too heavy handed with the sugar – but has a super complex tea laced sweetness that belies the simple ingredients list. We think you and your family are going to love it.
But first…
WHAT IS A CHIFFON CAKE? 
A traditional chiffon cake is a light, airy cake made with vegetable oil instead of fats that remain solid at room temperature, like butter. It also tends to get a pillowy soft texture from use of egg whites that are whipped until stiff.
And this isn't even our first rodeo making a rice cooker chiffon cake recipe – so we've got the process perfected. It's so easy!
HOW TO MAKE BLACK TEA CHIFFON CAKE IN YOUR RICE COOKER
Check out the detailed step by step instructions and ingredients list for specifics. It's pretty straightforward.
The only differences in the cooking process will depend on which Tiger multifunctional rice cooker you have at home. 
If you have the JKT-D model, there's a Cake setting. Easy, right?!
If you've got another multifunctional rice cooker, you'll just use the Slow Cook setting for 60 minutes. Just as easy!
No matter which rice cooker you use though, this black tea chiffon cake will be a big hit at your house after dinner. We promise!
Products used in this recipe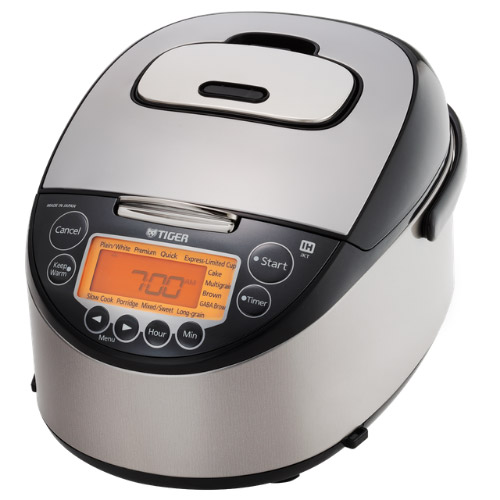 Induction Heating Rice Cooker JKT-D10U/18U
Made in Japan The TIGER JKT-D multi-functional induction heating (IH) electric rice cooker allows yo […]
LEARN MORE