This white chili is hearty and packed with smoky flavor. But the best thing about this slow cooker chili recipe is how easy it is to make after a long day. Grab a big bowl and dig in!
Servings

2

Preparation

15 min

Cooking

70 min
Ingredients
1 tbsp Olive oil
1 cup Onion, finely chopped
2 Celery stalks, finely chopped
1 tsp Dried thyme
2 Garlic cloves, minced
1 tbsp Cumin powder
1 tbsp Smoked paprika
2 cups Water
1 ½ tsp Salt
1 (15-ounce) can Cannellini beans, rinsed
1 (15-ounce) can Garbanzo beans, rinsed
1 (4-ounce) can Diced green chiles
Juice of 1 lime
Ground black pepper, to taste
Directions
Put all the ingredients in the rice cooker inner pot and stir. 
Choose the [Slow Cook] setting and set the timer to 70 minutes. Press start.
Once complete, serve in a bowl.
WHAT IS WHITE CHILI?
White chili is typically made with white beans, green chilis and chicken. It's a milder cousin to the spicier (and beefier) Texas style chili recipes.
For this delicious and hearty white chili, we're using a mixture of cannellini beans and garbanzo beans. The cannellinis deliver the thickness you want from a good chili – and the garbanzos add a touch of nutty toothiness.
Now, we've left the chicken you'd usually find in a white chili out of this recipe (but feel free to add some if you'd like!). As it stands, this isn't just a vegetarian recipe – it's a full-on vegan chili. But the best thing about making chili at home is that you can modify as you see fit.
Warming spices like cumin and smoked paprika play so nicely with the trinity of onion, garlic and celery. But we'd say the star of this dish (aside from the beans) is the green chilis. They deliver a mild punch and manage to level-up the overall flavor, without overwhelming the dish with spice.
And the best part about this yummy slow cooker chili recipe is that you can make it after a busy day with minimal fuss in your rice cooker.
HOW TO MAKE WHITE CHILI IN A RICE COOKER
Simply load all of your chili ingredients into the inner pot of your Tiger multifunctional rice cooker and use the Slow Cook setting for 70 minutes. That's it!
No muss, no fuss. When the timer sounds off – dinner is served!
Products used in this recipe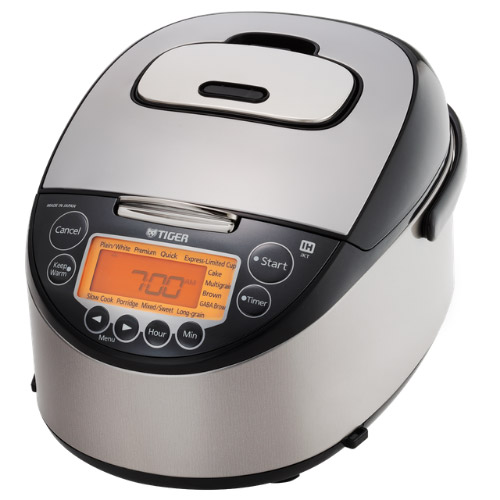 Induction Heating Rice Cooker JKT-D10U/18U
Made in Japan The TIGER JKT-D multi-functional induction heating (IH) electric rice cooker allows yo […]
LEARN MORE