Put your traditional sushi ingredients to work in a new way with this delicious and whimsical sushi cake. Celebrations will never be the same!
Ingredients
3 cups cooked Japanese rice
40 ml Rice vinegar
1 tablespoon sugar
3/4 teaspoon salt
4-6 oz Salmon, sliced
6 Boiled shrimp
1-2 tablespoon Salmon roe
1 Cucumber, sliced
5 Shiso leaves
2 Nori (dried seaweed) sheets
Sesame seeds
Directions
Place cooked rice in a container and add rice vinegar, sesame seeds, sugar and salt. Mix well.
Place a plastic wrap over an 8-inch pan and insert about a half of the sushi rice. Lightly press the rice down so the rice stick together.
Tear the nori sheets into pieces and cover the layer of rice. Make a layer with the sliced cucumbers.
Place the rest of the rice in the pan on top and lightly press again. Mound so that the top is leveled.
Flip the pan over to a plate and remove the plastic wrap. Shape the cake if necessary.
Decorate the top with salmon, shrimp, salmon roe and shiso leaves. You can also roll the salmon strips to make in a shape of a flower.
Slice and serve with soy sauce and wasabi.
A FUN AND DELICIOUS SUSHI CAKE
Sure, there are a ton of ways you can use ingredients like sushi rice and sashimi. You can always go the traditional route with timeless classics like this scattered chirashizushi or this tekka maki.
Or… you can embrace the creative and, dare we say, adventurous side of things and whip up a sushi cake that is sure to shake things up at your next family gathering or office party.
Same ingredients as the classics – entirely different outcome.
This sushi cake is topped with salmon sashimi, cooked shrimp and savory salmon roe (ikura). And there's a vibrant center layer consisting of fresh sliced cucumber and garden fresh shiso leaves. We also love adding sliced avocado for a creamy balance of textures.
This homemade sushi cake hits a perfect savory balance, much like your favorite pieces of nigiri and maki at your local sushi joint.
But the most important ingredient in this vibrant recipe is also the most humble of all. The rice 🍚
WHAT IS JAPANESE RICE?
Japanese rice is short grain rice that, once cooked, takes on a translucent appearance and a soft and slightly sticky texture.
Your Tiger rice cooker is a great tool for preparing perfect Japanese rice with the simple press of a button. However, to make sushi rice there's one final step to follow after the cooking process that will have your tastebuds dancing!
HOW TO MAKE SUSHI RICE
After your rice cooker sounds off that it's done cooking your rice, simply add a mixture of rice vinegar, sugar and salt (exact proportions are in the ingredients tab) and give it a stir. These ingredients impart a savory, slightly sweet and tangy element to your rice – and create a balanced, nuanced flavor to the composed bite.
Your sushi cake will be the talk of the party! And, trust us, it won't last long.
Itadakimasu!
Products used in this recipe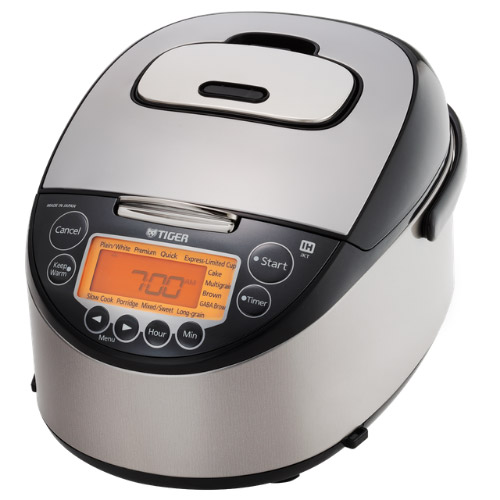 Induction Heating Rice Cooker JKT-D10U/18U
Made in Japan The TIGER JKT-D multi-functional induction heating (IH) electric rice cooker allows yo […]
LEARN MORE