Rice Cooker
Chirashi (Scattered) Sushi
Whip up a batch of sushi rice and sharpen your knives. Let's make chirashi!
Ingredients
3 cups Cooked Japanese rice
40 ml Rice vinegar
1 tablespoon Sugar
3/4 teaspoon Salt
5 oz Tuna sashimi
5 oz Salmon sashimi
5 oz Cooked shrimp
5 oz Cooked octopus
5 oz Imitation crab
1 Cucumber
2 Shiso (Perilla) leaves
Sesame seeds for garnish
Soy sauce and wasabi
Directions
Place cooked rice in a container and add rice vinegar, sugar and salt. Mix well.
Cut seafood toppings and cucumber into cubes. Slice shiso leaves thinly.
Serve sushi rice in a bowl or large plate and sprinkle sesame seeds.
Spread sushi and cucumber randomly on top of the rice. Sprinkle sliced shiso leaves on top.
Serve with soy sauce and wasabi.
WHAT IS CHIRASHI?
Chirashi (sometimes called chirashi sushi or chirashizushi) means 'scattered' – and is a dish that many times consists of sashimi served on top of a bowl of flavored sushi rice. Actually, the toppings used in chirashi differ from region to region in Japan – and, while raw fish is sometimes used, can many times also consist of vegetables and cooked seafood.
Much like a Japanese beef bowl or delicious oyakodon, chirashi is a composed meal in a bowl. It's super versatile. And it's easier to make at home than you might first think!
Best part: you can tailor chirashizushi to your tastes. Follow a vegetarian diet? No problem… simply switch the fish out in favor of veggies. It's your world!
HOW TO MAKE SUSHI RICE IN A RICE COOKER
Now, making sushi rice in a rice cooker may seem like a no-brainer. And it kind of is. When you use Japanese short grain rice in your Tiger rice cooker, you'll get perfect results every time.
However, there's an extra step when making rice for chirashi, maki (rolls), or nigiri (sushi).
Just place your cooked Japanese rice in a bowl and add rice vinegar, sugar and salt (see amounts in the recipe tab). These ingredients deliver a slightly sweet, tangy and savory element to the rice. The balanced flavor they create compliments the fish so well, pairs well with wasabi and soy sauce – and helps give the bite a layered, nuanced flavor.
And it's the same subtly flavored rice used in those yummy rolls that you'll use in your chirashi bowl! Who says you can't make sushi at home?!
Itadakimasu!
Products used in this recipe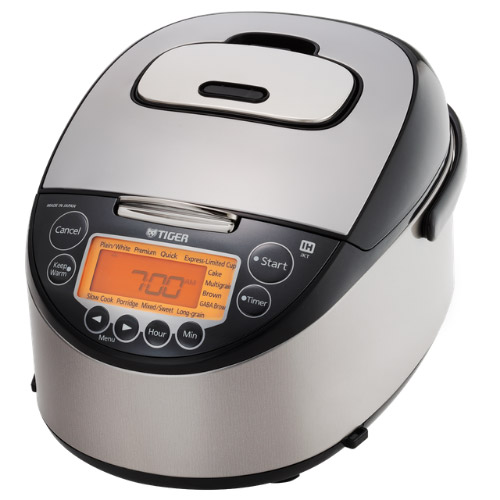 Induction Heating Rice Cooker JKT-D10U/18U
Made in Japan The TIGER JKT-D multi-functional induction heating (IH) electric rice cooker allows yo […]
LEARN MORE