Rice Cooker
Spicy Tuna Roll
Ingredients
3 cups cooked Japanese rice
40 ml rice vinegar
1 tablespoon sugar
3/4 teaspoon salt
6 oz Tuna sashimi
4 teaspoon Siracha sauce
4 teaspoon Mayonnaise
1 Green onions
3 nori (dried seaweed) sheets
Sesame seeds
Directions
Place cooked rice in a container and add rice vinegar, sugar and salt. Mix well.
Wrap bamboo mat with plastic wrap and have a bowl of water mixed with a little rice vinegar on the side.
Lay a nori sheet with the shiny side facing down on the bamboo mat. Add 1 cup of rice to the center of the nori sheet and wet your fingers with vinegar water.
Spread the rice using your fingers, evenly across the nori sheet.and reset the Porridge cycle for an additional 20 minutes.topped with chopped scallions.
Sprinkle about 1/2 teaspoon sesame seeds onto the rice evenly across.
Turn the nori sheet over so the rice is facing down. Move the nori sheet close to the edge of the bottom of the bamboo mat.
Chop tuna until smooth and mix siracha sauce and mayonnaise. Insert chopped green onions and mix.
Place tuna mix horizontally on top of nori.
Grab the bottom edges of the mat with your thumbs and hold on to the toppings with your other fingers.
Roll into a tight cylinder and lift the edges of the bamboo mat to prevent it from rolling into the roll together with the filling. The mat should look like the letter C from the side as you roll forward. Keep rolling forward using a little pressure and let go when the roll is done.
Cut the roll in half and then into thirds.
Serve with soy sauce and wasabi.
A SPICY TUNA ROLL YOU CAN MAKE AT HOME
When it comes to eating sushi rolls (maki), you can't really go wrong. Because there are few things in life better than fresh fish or veggies encased in perfectly cooked Japanese rice and seaweed.
And, while we love all sushi, we have a special place in our hearts (and bellies) for spicy tuna rolls. There's just something about the perfection of fresh tuna mixed with the creaminess of mayo and the heat of chili sauce that elevates spicy tuna maki to an entirely new level of deliciousness.
Now, you may think that making a spicy tuna roll is something only a trained sushi chef can do – but don't count yourself out just yet! You'll be shocked at how much you can accomplish at home with some fresh fish, sushi rice and a bamboo mat.
HOW TO MAKE SPICY TUNA
While they render massive flavor, you may be slightly shocked by how few ingredients it takes to make the filling for your homemade spicy tuna roll.
Start with sushi grade tuna sashimi – and chop until smooth. Then, just add a simple mix of mayonnaise and chili sauce (like sriracha) for creamy heat. Now you could be done there – but we like to add a few chopped scallions (green onions) for texture and a bright, garden freshness.
Finally, we can move on to the most important ingredient of all… the rice!
HOW TO MAKE SUSHI RICE
Place your cooked Japanese rice in a bowl and add rice vinegar, sugar and salt (see amounts in the recipe tab). This trio of ingredients delivers a balanced mildly sweet, tangy and savory element to the rice and compliments the fish (it also pairs well with wasabi and soy sauce). It's used to give the bite a layered, nuanced flavor.
And luckily, whether you're making this spicy tuna roll, a California roll – or even a Philadelphia roll – the process for making sushi rice is the same!
Follow the simple rolling steps listed under the Directions tab on this page, and you're all set. Throw a sushi party at your place for family and friends with an absolute minimum of fuss.
Itadakimasu!
このレシピで使用した製品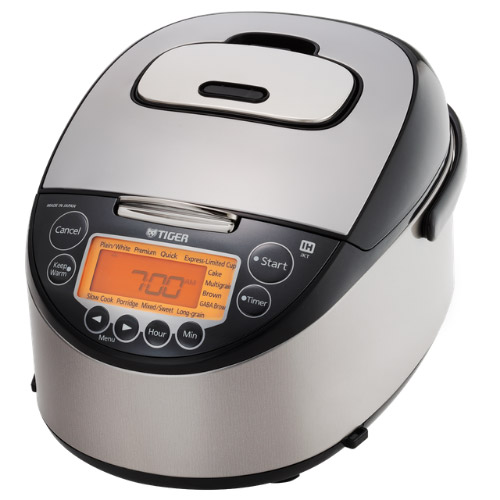 Induction Heating Rice Cooker JKT-D10U/18U
Made in Japan The TIGER JKT-D multi-functional induction heating (IH) electric rice cooker allows yo […]
LEARN MORE