Rice Cooker
Slow Cooker Braised Pork Belly
This slow cooker braised pork belly is a delicious indulgence. We think you'll absolutely love the tender perfection you can achieve by making it in your rice cooker!
Servings

3-4

Preparation

15 min

Cooking

70 min
Ingredients
1 lbs Pork belly
1/2 cup Bean curd skin (Tofu skin available at Asian market)
4 Ginger slices
1 1/2 tbsp Soy sauce (dark if available)
1 tbsp Cooking sake
1 1/4 cup Water
Pinch Sugar
Pinch Salt
Directions
Cut pork belly into bite-size pieces, wash and boil with ginger (extra) beforehand to cook out the fat.
Wash the bean curd skin and boil in a pan beforehand to remove the smell of beans.
Place the pork, ginger and bean curd skin in the inner pot and add the marinade sauce. Select the [Slow Cook] menu option, set to 60 minutes and press the [Start] key.
When cooking is complete, add salt and sugar for flavor
Turn pork pieces over and add 10 minutes of cooking time.*
When cooking is finished, and place the dish on the serving plate.
* To add more time: While the [Keep Warm] light is lit, press the [hour/min] key to add time and press [Start] key.
BRAISED PORK… AN EASY SLOW COOKER RECIPE
There are few things better than the culinary magic that happens when you slow cook pork belly. The savory, tender, fall apart goodness are an indulgence worth experiencing again and again!
Braising is a cooking technique that calls for food to be cooked at a high temperature at the beginning – and then finished at a lower temperature in a covered vessel.
Ever had pot roast? Well, that's a braised meat as well!
Braising is an excellent way to turn tougher cuts of meat into tender perfection.
HOW TO MAKE BRAISED PORK BELLY IN A RICE COOKER
You know we're all about making any and all slow cooker recipes in our rice cookers.
It's because your Tiger multicooker is outfitted with a ton of pre-programmed settings that you can use for cooking food way beyond perfect rice.
And much like these slow cooker BBQ pulled pork sandwiches, once you sink your teeth in, you're going to be a fan!
Now, this recipe calls for an awesome mix of pork belly, ginger and tofu skin. You should have no trouble tracking down tofu skin (yuba) at most Asian markets. However, if you can't find it, it's not obligatory.
That said, the textural wonder of yuba and this slow cooker pork are a real dynamic duo, so it's worth looking for!
After slow cooking this braised pork belly with soy sauce and sake for about an hour, just add a bit of salt and sugar – and slow-cook for an additional 10 minutes.
The deep flavor of this braised pork recipe develops in such a short time, after the first bite we think you'll be pleasantly shocked by what you can make with a handful of ingredients and a rice cooker!
Products used in this recipe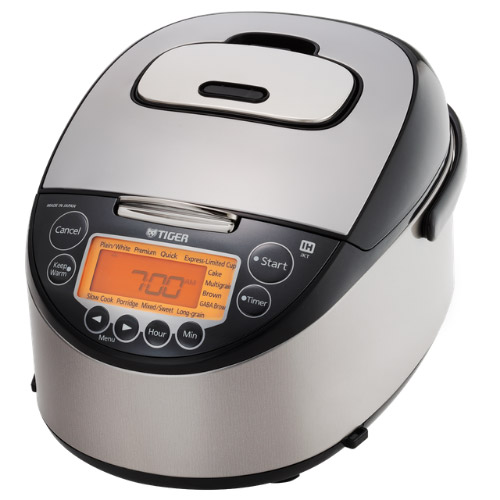 Induction Heating Rice Cooker JKT-D10U/18U
Made in Japan The TIGER JKT-D multi-functional induction heating (IH) electric rice cooker allows yo […]
LEARN MORE