Rice Cooker
Seafood Pilaf
This saffron loaded Mediterranean seafood pilaf will have everyone around the dinner table swooning – and demanding seconds!
Servings

3-4

Preparation
Cooking
Ingredients
2 cups Japanese short grain rice
Enough chicken broth to reach the 2 cup rice line in the rice cooker inner pot 
4 to 6 saffron threads (optional)
½ teaspoon salt
½ teaspoon ground black pepper
1 teaspoon dried parsley
1 teaspoon dried oregano
½ small onion, finely chopped
½ carrot, finely chopped
9 ounces mixed seafood such as shrimp, squid, octopus, mussels, and/or imitation crab (if you are using a frozen mix, thaw it first)
1 tablespoon butter or vegan butter
2 tablespoon freshly chopped parsley (optional)
Lemon wedges, to serve (optional)
Directions
Rinse the rice well until the water runs clear and add it to the rice cooker inner pot.
Add the broth, saffron, salt, pepper, dried parsley, and dried oregano, and mix well with a spoon.
Add the onion and carrot and finish by adding the mixed seafood on top.
Close the lid and choose the [Plain] function. Press start.
When the cooking process is done, open the lid and stir in the butter.
Serve topped with fresh parsley and a lemon wedge on the side.
THIS DELICIOUS RICE COOKER SEAFOOD PILAF HAS A LOT IN COMMON WITH PAELLA
By now, it's no secret that we're all about pushing the limits of the types of food you can expect to make in a rice cooker. Whether it's cake or meatballs, we're all about it!
And that forward thinking also applies to savory seafood and rice dishes. In fact, this isn't our first rodeo with seafood rice. We've already experimented with rice cooker jambalaya, and the granddaddy of them all: paella.
Well, this seafood pilaf draws a strong parallel with that iconic Spanish rice recipe!
Short grain rice is cooked in savory stock, loaded with herbs and finely chopped carrots and onions. Saffron delivers it's subtle earthy and floral complexity to the mix.
But the real-deal bringer of deliciousness in this rice pilaf is definitely the seafood – which cooks right along with the rice and infuses the entire dish with flavors of the sea.
The best part about this seafood pilaf recipe is that you can use whatever you love – and whatever is freshest at the seafood counter at your neighborhood market. Shrimp, squid, octopus and clams are some of our notable favorites – but use what you LOVE!
And we think you'll be blown away by how easy it is to make this seafood recipe in your rice cooker.
HOW TO MAKE SEAFOOD PILAF IN A RICE COOKER
Simply add your rinsed rice, herbs and broth to the inner pot of your Tiger multifunctional rice cooker and give it all a good stir.
Next add your chopped onions and carrots. Finally add the seafood mix you're using (if you're using frozen seafood, be sure to thaw it first!).
Then just select the Plain function and press the Start button. That's basically it!
When the cooking process has finished, we think stirring in a bit of butter is a decadent choice. Serve with fresh parsley and a lemon wedge for the full experience!
Products used in this recipe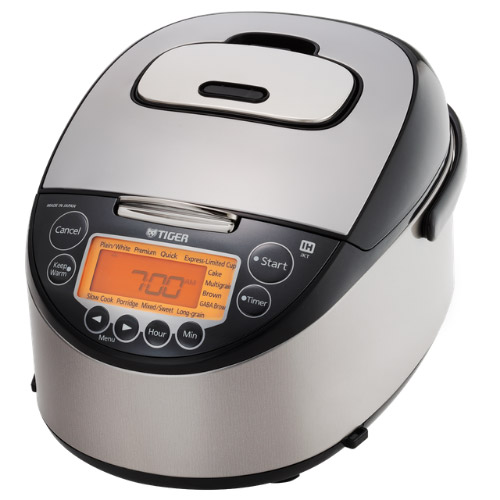 Induction Heating Rice Cooker JKT-D10U/18U
Made in Japan The TIGER JKT-D multi-functional induction heating (IH) electric rice cooker allows yo […]
LEARN MORE