Rice Cooker
Gochujang Glazed Arctic Char
These delicate arctic char fillets are covered in a fiery, savory and sweet Korean inspired gochujang sauce. Make this easy fish recipe in your rice cooker in no-time!
Ingredients
2 Arctic char fillets
1 tbsp Ginger, grated
1 tbsp Garlic grated
1 tbsp Gochujang
1 tbsp Soy sauce
1 tsp Mirin
1 tsp Honey
½ tsp Sesame oil
Directions
Mix the ingredients for the sauce and set aside.
Place arctic char fillets on the tacook cooking plate and top with grated ginger and garlic.
Put the washed rice and water in the inner pot and place it in the rice cooker.
Set the cooking plate in the inner pot. Select the [Synchro-Cooking] menu and press the [Start] key.
When the cooking is done, open the lid and brush the sauce over the fillets. Close the lid and leave for 2 minutes. 
Serve with rice.
WHAT IS GOCHUJANG?
Gochujang is a Korean chili paste that is commonly used in dishes such as tteokbokki and bibimbap, as an ingredient in soups – and as a marinade for meats like bulgogi.
Running the gamut of flavors from mildly nutty and smoky – to sweet, spicy and earthy, this paste is made from powdered red pepper flakes (gochugaru), fermented soybeans, salt, glutinous rice and malt powder.
Many of the iconic flavors in your favorite Korean recipes can be attributed to the use of gochujang.
And it makes the perfect base for the glaze we're using in this delicious arctic char recipe.
Fiery and funky gochujang is mixed with soy sauce for a ton of savory umami – and then balanced out with a sweet one-two punch of mirin and honey. Sesame oil lends a deep nuttiness to the dish that is contrasted by the brightness of grated ginger.
It really has all the flavors. And you'll love how easy it is to make in your rice cooker!
HOW TO COOK ARCTIC CHAR IN A RICE COOKER
Simply place your rinsed rice and water into the inner pot of your Tiger multifunctional rice cooker. Then load the Tacook cooking plate with the arctic char fillets, topped with grated garlic and ginger. 
When you select the Synchro-Cooking setting, your rice and fish will cook to perfection at the same time.
This keeps it simple at dinnertime – and makes it a breeze for whoever is stuck on clean-up duty after dinner!
Once the timer sounds off, brush the gochujang glaze on your fish fillets and close the lid for a couple more minutes.
You won't believe how delicately cooked the arctic char filets are – and how punchy and assertive the sauce makes everything taste!
Products used in this recipe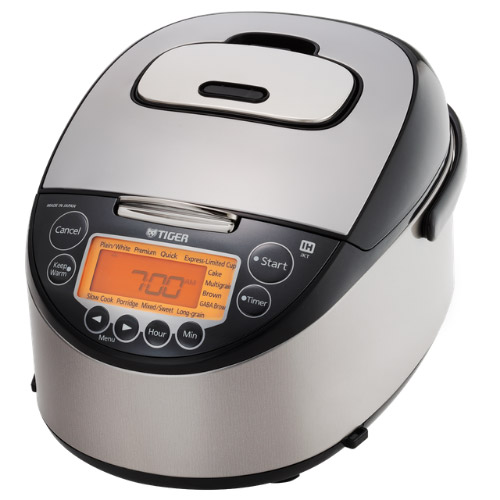 Induction Heating Rice Cooker JKT-D10U/18U
Made in Japan The TIGER JKT-D multi-functional induction heating (IH) electric rice cooker allows yo […]
LEARN MORE