Rice Cooker
Steamed Garlic Salmon with Dill and Garden Vegetables
Gluten Free
Synchro Cooking
If you crave a salmon steak recipe that is as absolutely delicious as it is healthy, then this steamed garlic salmon with dill and garden vegetables recipe is for you.
Savory, tangy and oh so easy to make!
Servings

2

Preparation
Cooking
Ingredients
2 cups of White rice (with the supplied measuring cup)
2 slices Salmon (deboned fillet)
1 3/4 oz Asparagus
2 1/3 oz Cherry tomatos
1/8 oz Garlic
1 1/2 tbsp Dill (finely chopped)
3/4 tbsp Extra virgin olive oil
Salt and Black pepper for flavor
2 slices Lemon wedges
Directions
Peel the stalks of asparagus and cut into 3 equal parts. Slice the garlic thinly.
Place the salmon on the tacook cooking plate and place the cherry tomatoes and aspagurs between the salmon filets.
Place the dill and garlic over the salmon.
Add salt and black pepper and drizzle extra virgin olive oil
Put the washed rice and water in the inner pot and place in the rice cooker.
Set the cooking plate in the inner pot. Select the [Synchro-Cooking] menu and press the [Start] key.
When cooking is complete, place the dish on a serving plate. Serve with lemon.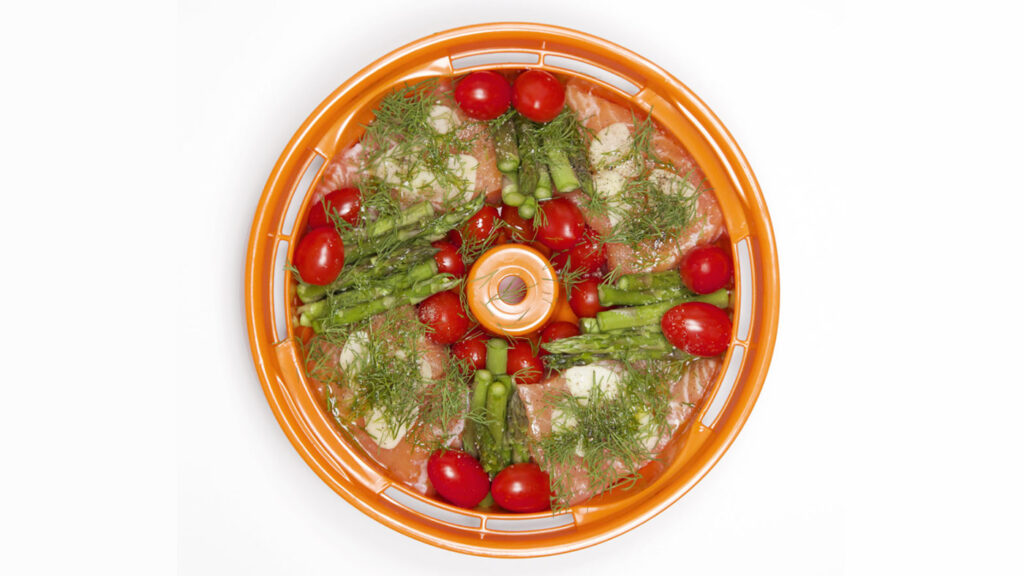 A STEAMED SALMON STEAK AND ASPARAGUS RECIPE
Is there a flavor combination any more iconic than salmon and asparagus?
Because whether it's this brunch classic salmon and asparagus quiche – or a fancy salmon en papillote, we just can't get enough!
The savory perfection of a delicious salmon steak pairs so wonderfully with the crisp garden freshness that asparagus brings to the table.
Well, we're all in luck today friends! Because we've got a healthy salmon recipe that pairs this luxurious omega-3 rich protein with garlic, fresh dill, cherry tomatoes – and, of course, snap-fresh asparagus spears.
It's absolutely delicious!
And since this garlic salmon recipe will be precision steamed in your rice cooker, whomever gets stuck on cleanup duty after dinner will feel like they got a free pass!
HOW TO COOK SALMON IN A RICE COOKER
First things first: your Tiger rice cooker is the perfect kitchen appliance to use for this steamed salmon and garden veggies recipe.
And the main reason for that is the tacook cooking plate that allows you to cook a composed dish AND rice in your multicooker at the same time.
So whether you're making these savory cajun turkey meatballs or these mini Japanese hamburg steaks, your multi-functional rice cooker will ensure every element of your dinner is cooked to perfection.
And all you have to do is press the Start button!
Same rules apply for this steamed salmon steaks recipe. Just place your rinsed rice and water in the inner pot of your rice cooker – and load your salmon fillets and veggies in the tacook plate. Select the Synchro-Cooking setting and sit back.
We told you it was easy!
Now, will rice cooker steamed salmon be a commonly used phrase in the future? We sure think so…
But in the meantime, try this garden fresh salmon and vegetables recipe and let us know what YOU think!
Products used in this recipe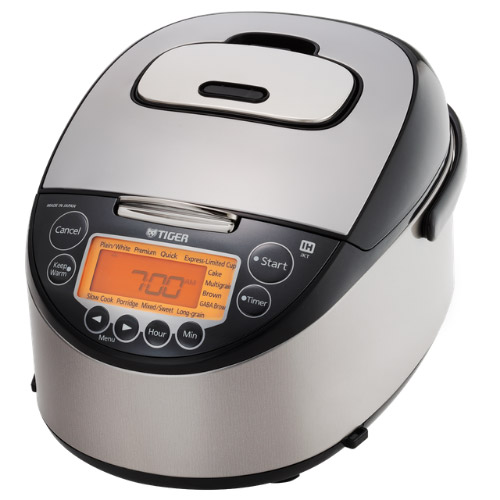 Induction Heating Rice Cooker JKT-D10U/18U
Made in Japan The TIGER JKT-D multi-functional induction heating (IH) electric rice cooker allows yo […]
LEARN MORE