Rice Cooker
Mini Hamburg Steak – ハンバーグ
Everyone has a meal that reminds them of childhood.
And this Japanese hamburg steak is just that recipe. There's something about those savory hamburger patties smothered in a demi-glace loaded gravy that we're crazy about.
Hey – when it comes to an easy hamburger recipe at dinnertime, what's not to love?!
Ingredients
1/3 lb Ground beef (lean)
1/4 Onion
A dash Salt, pepper, nutmeg
1 Beaten egg
3 tbsp Bread crumbs 3 tablespoons
1/2 tbsp Milk 1/2
1/3 lb Demi-glace sauce
2 tbsp Tomato ketchup
2 tsp Worcestershire sauce
Directions
Chop the onion finely.
Season the ground beef with salt, pepper, and nutmeg, and mix well until the mixture becomes sticky. Mix beaten egg, bread crumbs and milk. Shape into 4 oval balls.
Place the meat balls into tacook cooking plate. In another bowl, mix together demi-glace sauce, ketchup and Worcestershire sauce and pour over the meat balls.
Put the washed rice and water in the inner pot and place in the rice cooker.
Set the cooking plate in the inner pot. Select the [Synchro-Cooking] menu and press the [Start] key.
Once the cooking is complete, serve the hamburg with rice on a plate.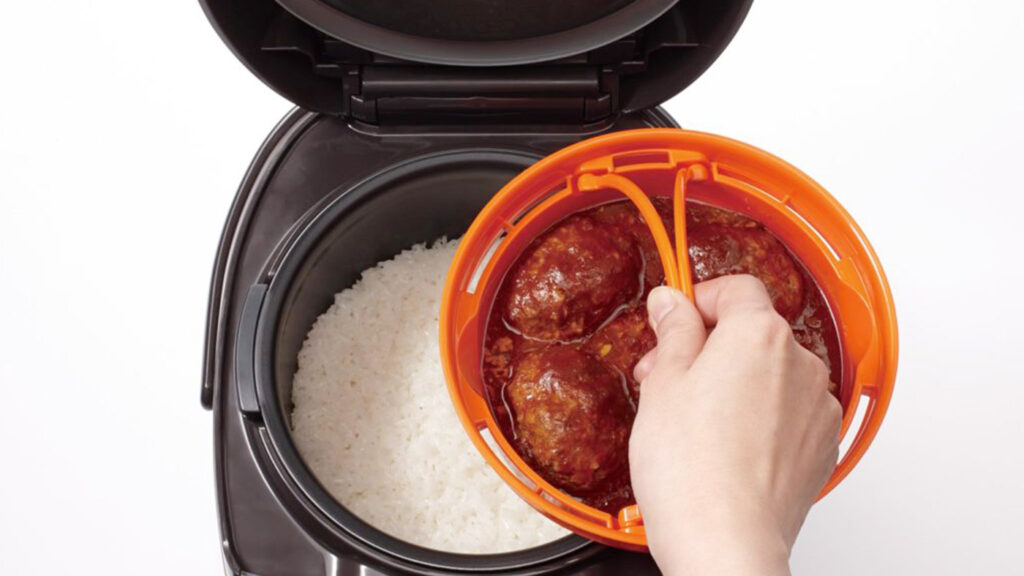 WHAT IS A HAMBURG STEAK?
Hamburg steak is a burger patty made of ground beef – and sometimes a mixture of ground beef and ground pork. Chopped onions are added for a bit of natural sweetness, and eggs and breadcrumbs form a binder to keep the patty together as it cooks.
Famous in Japan as a staple of yoshoku cuisine (Japanese Western-influenced cuisine), these patties are topped with a savory demi-glace sauce and usually served with rice
Fun fact: the word 'hamburg' in the Japanese katakana syllabary is ハンバーグ – and is pronounced 'hambagu' – which is derived from the English 'hamburger.'
But the coolest thing (aside from the amazing taste) is that Japanese hamburg steaks runs a super close parallel to another classic: Salisbury steak!
So whether you find that these taste like the hambagu of your childhood – or the Salisbury steak of your childhood, you will definitely catch a little nostalgia.
We love that the flavor of this easy burger recipe has global reach… No matter whether you grew up in Tokyo or Milwaukee, you'll already know it when you taste it!
HOW TO MAKE A JAPANESE HAMBURG STEAK IN A RICE COOKER
We'd bet that the first appliance you think of when getting your ingredients together for a hamburger recipe probably isn't your rice cooker.
Don't worry. It's all good😄
But we're here to change that!
You see, your Tiger rice cooker is totally up to the culinary challenge of making Japanese hamburg steaks.
Simply form your burger patties, place them in the Tacook cooking plate and top them with the demi-glace sauce.
Put that plate on top of the inner pot which will have your rinsed rice and water. Select the Synchro-Cooking setting – and your hamburg steaks AND rice will cook at the same time.
It's a little kitchen magic… well, almost!
Itadakimasu🍲
Products used in this recipe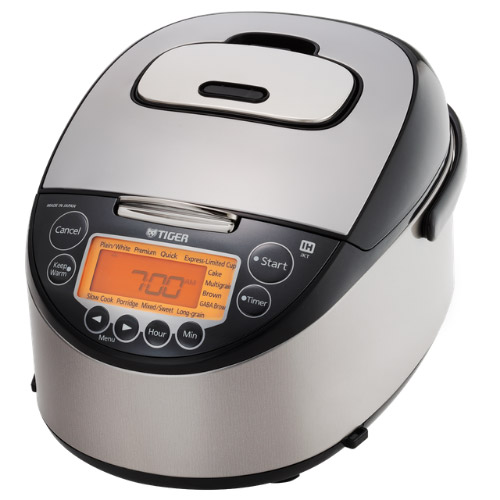 Induction Heating Rice Cooker JKT-D10U/18U
Made in Japan The TIGER JKT-D multi-functional induction heating (IH) electric rice cooker allows yo […]
LEARN MORE