Rice Cooker
Smoked Salmon and Asparagus Quiche
You know how they say breakfast is the most important meal of the day? Well, if our penchant for steel cut oatmeal is any indicator, it's fair to say that we agree!
But, do you know what the second most important meal of the day is?
If you shouted BRUNCH! – well… we think you're right.
Start your weekend off with a delicious veggie and smoked salmon loaded asparagus quiche that you can eat on its own – or serve over rice.
It's the perfect start to a lazy day off.
Hey – where are the mimosas!?
Servings

2

Preparation
Cooking
Ingredients
2 oz (60 g) Sliced smoked salmon
1 Green asparagus
1/8 Onion
2 Cherry tomatoes
2 Black olives, sliced
3 Eggs (medium size)
3 tbsp Whipping cream or milk
 3/4 cup (2-3/4 oz / 80g) Shredded cheese
A pinch salt and pepper
Tomato sauce for flavor
Fennel for garnish
Directions
Trim the asparagus and peel the skin starting about 1/3 from the bottom. Cut them into 1-1/4 inches (3 cm) lengths.
Cut the smoked salmon into 1 inch (2 cm) slices.
Slice the onions and cut the cherry tomatoes into quarters.
In a bowl, whisk eggs, heavy cream, salt, pepper and shredded cheese.
Add asparagus, smoked salmon, onions, cherry tomatoes and sliced black olives. Mix lightly and place into the tacook cooking plate.
Put the washed rice and water in the inner pot and set in the rice cooker.
Set the cooking plate in the inner pot. Select the "Synchro-Cooking" menu and press the [Start/Rinse-free] key.
When cooking is complete, place the dish on a serving plate. Serve with tomato sauce and fennel.
A LOW CARB CRUSTLESS QUICHE
We're big fans of indulgent quiche lorraine. So, any time we hear the word healthy thrown around in relation to quiche, we get a little wary.
But, in the case of this salmon and vegetable quiche, all that worry is for nothing!
You see, it's totally possible to make a healthy quiche recipe that is not only good for you, but is also packed with flavor.
For this asparagus quiche, we swapped the meat you'd normally find in a traditional quiche for heart-healthy smoked salmon – and made it low-carb by omitting the crust.
If you decide you want those carbs, then you're going to love this next bit…
We're making this yummy, eggy brunch recipe in a rice cooker – so you can cook rice at the same time as your asparagus and smoked salmon quiche!
HOW TO MAKE QUICHE IN A RICE COOKER
It's not very often that the words brunch and rice cooker get mentioned in the same breath.
Well… we're here to change that!
Your Tiger rice cooker comes equipped with a Tacook cooking plate that will cook your quiche mixture with the steam created from your rice as it cooks in the pot below.
Yep, science is neat (and tasty!).
This delicious quiche will be a crowd pleaser – and there's super minimal cleanup afterwards.
So, is this rice cooker quiche going on your brunch menu?
Products used in this recipe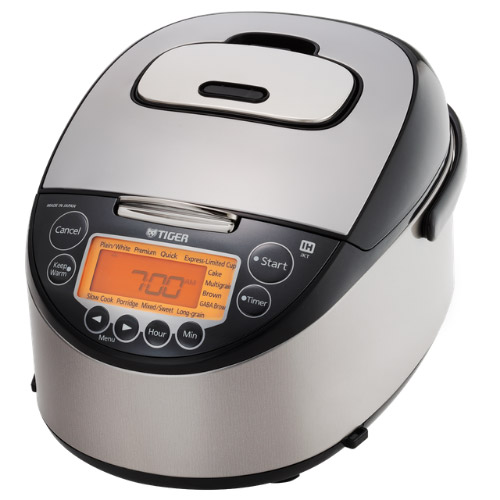 Induction Heating Rice Cooker JKT-D10U/18U
Made in Japan The TIGER JKT-D multi-functional induction heating (IH) electric rice cooker allows yo […]
LEARN MORE