Say hello to your new favorite rice bowl recipe! This umami loaded salmon rice is a delicious meal you can easily make in your rice cooker.
Servings

3-4

Preparation
Cooking
Ingredients
2 cups Japanese short grain rice
1 ½ teaspoons dashi powder
1 ½ tablespoon soy sauce
1 tablespoon sake
2 6-8 ounce boneless salmon fillets
1 thumb size ginger, peeled and sliced into thin strips
2 scallions, finely chopped
Directions
Rinse the rice well until the water runs clear and add it to the rice cooker inner pot.
Add enough water to reach the 2 cups line and add the dashi, soy sauce, and sake. Stir to combine.
Place the salmon fillets and ginger on top of the rice and close the lid.
Select the [Plain] function and press start.
When the cooking is done, use the rice paddle to break the salmon and mix it into the rice. You can remove the skin at this point.
Transfer the rice to a serving bowl and top with scallions. Serve.
A SALMON AND RICE SIDE DISH THAT EATS LIKE A MEAL
We're all about fried rice recipes that go easy on the 'fried' aspect. Because, while there's nothing like a good takeout rice recipe, we tend to err on the healthier side of things.
Well, this salmon rice recipe has monumental levels of flavor – and it will definitely satiate your craving for decadent flavors without having you shy away from the scale tomorrow morning!
This ricebowl gets a load of flavor from the salmon that cooks with the Japanese short grain rice. And the flaky salmon is fortified with the savory, umami notes of dashi powder and soy sauce.
Sake imparts a dry sharpness to the mixture, while fresh sliced ginger works its magic and delivers a slight burn and heat without going over into scorching territory.
Not only will your family be demanding second helpings, you'll love how easy it is to make this salmon rice recipe in your rice cooker!
HOW TO MAKE SALMON RICE IN A RICE COOKER
Simply add your rinsed rice and water (see the directions tab on this page for exact amounts) into the inner pot of your Tiger multifunctional rice cooker. Then add your other liquid seasoning and stir it all together.
Next, place the salmon fillets and sliced ginger atop the rice. Close your rice cooker and select the Plain cooking preset and press the Start button. And that's it!
When the cooking cycle finishes, remove the salmon skin, stir the cooked rice and fish together – and top with chopped scallions. Itadakimasu!
Products used in this recipe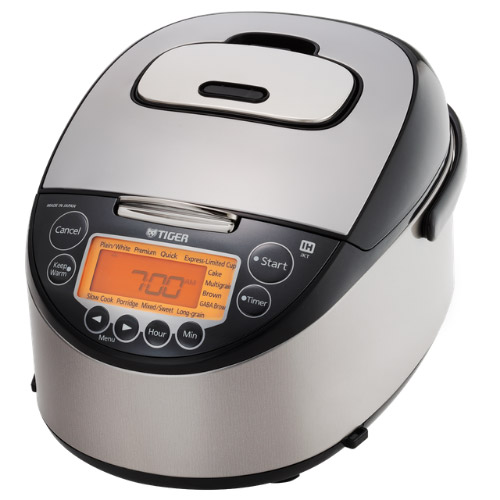 Induction Heating Rice Cooker JKT-D10U/18U
Made in Japan The TIGER JKT-D multi-functional induction heating (IH) electric rice cooker allows yo […]
LEARN MORE