Rice Cooker
Ginger Leek Salmon
Dinner is going to taste (and look) amazing! This ginger leek salmon is flavor-packed and super easy to make in your rice cooker.
Servings

2

Preparation

15 min

Cooking

15 min
Ingredients
3 tbsp Rice vinegar
½ cup Water
1 tbsp Sugar
1 ½ tbsp Soy sauce
1 ½ tbsp Miso paste
2 Salmon fillets
1 Leek, chopped
2 tbsp Ginger, peeled and sliced into thin sticks
Directions
Whisk rice vinegar, water, sugar, soy sauce, and miso paste in a bowl, and add the mixture to the inner pot.
Add salmon fillets, leek, and ginger to the inner pot, making sure the fish is covered with liquid, and close the lid.
Select the [Slow Cook] function and set the timer to 15 minutes. Press Start. 
Serve with rice or salad.
AN EASY SALMON RECIPE LOADED WITH ASIAN FLAVOR
Salmon is a great choice when it comes to making dinner at home. Not only is it fairly simple to cook, it tastes magnificent – and looks pretty fancy when it hits the dinner plate.
And a huge bonus is that it absorbs flavors super well, making it the perfect protein to season just the way you like.
These tender salmon filets are prepared with an Asian inspired sauce that manages to achieve major flavor without too many trips to the pantry.
Miso paste delivers an earthy, savory element that is complemented by the umami from soy sauce. Rice vinegar and sugar lends a touch of bright sweetness to the mix. And peeled and sliced fresh ginger imposes a slow burn without becoming volcanic in the process.
The chopped leeks simmer alongside the salmon and pick up the nuanced flavors of both the fish and sauce. Trust us… you'll be spooning the leeks on top of your rice with abandon!
And the only thing better than the flavor of this ginger salmon recipe is how easy it is to prepare from start to finish in your rice cooker.
HOW TO COOK SALMON IN A RICE COOKER
Simply whisk all of the ingredients for your sauce in a bowl and pour it into the inner pot of your multifunctional rice cooker. Then add your salmon fillets, ginger and chopped leeks.
You'll only need 15 minutes on the Slow Cook preset for a salmon fillet that is not only tender and perfectly cooked – but is also bursting with assertive Asian flavors.
Dinner is going to be epic! And since you used your rice cooker to prepare this soy and miso salmon with ginger and leeks, whoever gets stuck on cleanup duty will have it EASY.
Products used in this recipe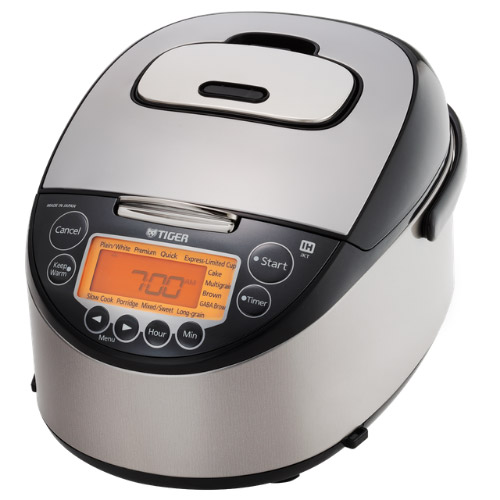 Induction Heating Rice Cooker JKT-D10U/18U
Made in Japan The TIGER JKT-D multi-functional induction heating (IH) electric rice cooker allows yo […]
LEARN MORE