Rice Cooker
Take Out Style Vegetable Fried Rice
Put that phone down! You can make the most delicious takeout style vegetable fried rice at home in your rice cooker!
Servings

4

Preparation

15 min

Cooking

65 min
Ingredients
2 cups Uncooked white rice
3 cups Mixed vegetables such as carrots, bell peppers, onions, broccoli
¼ cup Soy sauce
1 tbsp Ginger, peeled and grated
1 tbsp Garlic, minced
4 scallions, chopped
1-3/4 cups Chicken broth
2 teaspoons Toasted sesame oil
½ cup Frozen peas
2 large Eggs, scrambled
Directions
Put the washed rice and water in the inner pot and place it in the rice cooker.
In a bowl, stir in vegetables, soy sauce, ginger, garlic, scallions, chicken broth and sesame oil.
Pour the mixture over the rice but do not mix.
 Select the [Mixed] menu and set the timer to 50 minutes. Press the [Start] key.
When cooking is complete, add the scrambled eggs and frozen peas, and fold into the rice.
Close the lid and leave for about 15 minutes, or until the peas are cooked.
AN EASY VEGETABLE FRIED RICE RECIPE – BETTER THAN TAKEOUT
Sure, at the end of a long day at work or school, it can be liberating to swing by your favorite spot for takeout – or order delivery. But, hey… not every day!
There's just nothing better than home-cooked goodness on the dinner table.
The good news is, we've got a rice cooker recipe that mimics the flavors of the best takeout fried rice you might order from your neighborhood Chinese restaurant. And since you'll be using your rice cooker for this simple and delicious recipe, you'll be cooking with the press of a button!
WHAT IS RICE COOKER FRIED RICE?
Now the term fried is a bit of a misnomer here. While we are using typical fried rice ingredients in this veggie rice recipe, there's no actual frying going on at all. Soy sauce, ginger, sesame oil, scallions and your choice of vegetables all deliver on the flavor profile of a takeout style fried rice – but since it's all cooking together in the inner pot of your rice cooker, there's no need to break out the wok or a glug of cooking oil to enjoy those iconic fried rice flavors.
Think of this recipe as a cross between a Chinese vegetable fried rice and a Japanese takikomi gohan. And it's so easy to make!
HOW TO MAKE FRIED RICE IN A RICE COOKER
With multiple cooking presets, your Tiger rice cooker is the perfect kitchen appliance to rely on whether you're simply cooking perfect rice – or stepping outside the box to make something like gyudon (a Japanese beef bowl) or an impossibly luxurious Chinese braised pork belly.
Just load all your ingredients (EXCEPT for your frozen peas and scrambled eggs) into the inner pot of your multi-functional rice cooker. When you select the Mixed setting and press the Start button, your work is practically done.
Just before serving you'll fold in your scrambled eggs and peas and let it sit for a few minutes.
It's the perfect takeout-fakeout! Trust us, you're going to LOVE the delicious outcome.
Products used in this recipe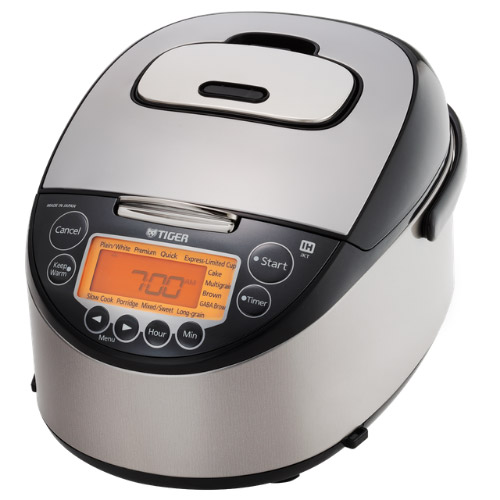 Induction Heating Rice Cooker JKT-D10U/18U
Made in Japan The TIGER JKT-D multi-functional induction heating (IH) electric rice cooker allows yo […]
LEARN MORE