Rice Cooker
Whole Onion Soup
Soup's on! Make this whole onion soup in your rice cooker with the press of a button. With all the flavors of French onion soup, this easy recipe will definitely be in your weekly meal rotation!
Servings

3-4

Preparation

15 min

Cooking

100 min
Ingredients
3 Medium onions, peeled, ends trimmed
2 1/2 cups Chicken broth
¼ cup White wine (optional but recommended)
1 tsp Dried thyme
2 Garlic cloves, minced
Freshly grated Parmesan cheese (optional)
Baguette (optional)
Directions
Place onions at the bottom of the rice cooker's inner pot and add chicken broth, white wine, thyme, and garlic.
Choose the [Slow Cook] setting and set the timer to 100 minutes. Press start.
Serve each bowl with one onion and some broth, and top with freshly grated Parmesan cheese.
A DELICIOUS SLOW COOKER ONION SOUP
We love heading to our favorite neighborhood bistro for a savory bowl of French onion soup. It's the perfect dish to enjoy (with a glass of wine of course!) after a long day.
Well, this onion soup recipe has the same iconic flavors you'd expect from the soup at your local bistro. Chicken stock and white wine create an aromatic and heady base of flavor that is sweetened by the essence of the whole onions that simmer to soft perfection. Thyme and garlic insert their pungent garden freshness to the mix.
And the whole thing is finished with a sprinkling of cheese. Now, instead of baking soup bowls piled high with Gruyere or Emmenthaller in the oven, we've kept it simple with a sprinkling of Parmesan. All the umami notes from that wonder-cheese really stand in nicely for the classics. But, hey – feel free to make it the way you love it!
No matter which cheese you use though, you're going to love how easy it is to make this soup from scratch.
HOW TO MAKE ONION SOUP IN A RICE COOKER
Simply add all of your onion soup ingredients to the inner pot of your rice cooker. When you select the Slow Cook preset, your Tiger rice cooker will take it from there.
You see, we make multi-functional rice cookers that do way more than just cook perfect rice. So if you're in the mood for Swedish meatballs, a Creole style jambalaya – or even a creamy cheesecake for dessert – we've got you covered!
Think of your Tiger multicooker as a one-stop-shop of kitchen appliances. It's the perfect cooking tool for this slow cooker soup.
Products used in this recipe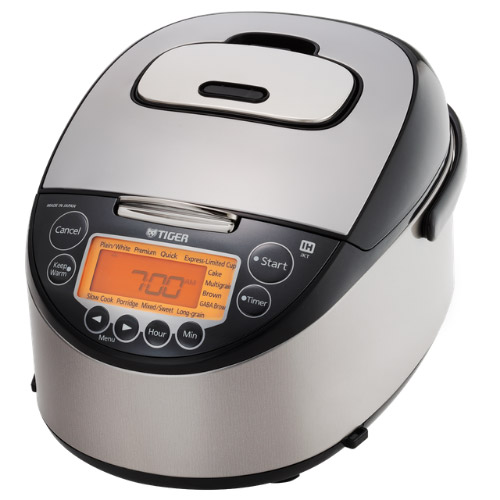 Induction Heating Rice Cooker JKT-D10U/18U
Made in Japan The TIGER JKT-D multi-functional induction heating (IH) electric rice cooker allows yo […]
LEARN MORE