Rice Cooker
Poke Bowl and Purple Potato Salad
On those rare days we're lucky enough to get to the beach, there's nothing better than feasting on a poke bowl for lunch.
We find the mixture of sashimi, rice, avocado and sauce an intoxicating mash up to be sure! However, while poke is great to devour while sitting at a beach shack with the salt drying in your hair, this Hawaiian classic is truly delicious anywhere.
To compliment our poke recipe, we included a purple potato salad you can prepare at the same time.
Sure, these dishes would be delicious with some sand between your toes – but there's no beach required! We think you're going to love this Hawaiian duo wherever you eat it.
Surf's up!
Servings

3-4

Preparation
Cooking
Ingredients
3 cups (supplied measuring cup) white rice
¾lb sashimi-style maguro tuna (cut in ½ inch slices)
4 shiso (green perilla) leaves (julienned)
1/3 of a white onion (sliced ¼ inches)
4 tbsp flying fish roe
1 avocado, cubed
2½ cups scrubbed purple potatoes
6 mini tomatoes (cut into 4 quarters)
1/3 cup corn
basil leaves, as desired
3 tbsp sesame oil 4 tbsp soy sauce
1 tsp Sriracha sauce
½ tbsp mirin (sweet rice cooking wine)
3 tbsp olive oil
2 tsp Dijon mustard
2 tbsp rice vinegar
Pinches of salt and pepper
soupçon of agave
Directions
Rinse the rice and place the grains in the inner pan of the rice cooker. Add water up to level 3 marked in inner pot.
Arrange the purple potatoes in the tacook cooking plate and place the plate in the rice cooker. Select the "Synchro-Cooking" menu and press the start key.
Place the ½ inch slices of sashimi-style maguro tuna in a bowl along with the julienned shiso (green perilla) leaves, onions and avocado.
Make the Poke Sauce: Whisk together the sesame oil, soy sauce, Sriracha sauce and mirin (sweet rice cooking wine) together.
Make the Mustard Dressing: Mix the olive oil, Dijon mustard, rice vinegar, salt and pepper and agave.
When the cooking is complete, stir the rice and transfer the contents to a bowl to reduce the heat.
Cut the purple potatoes into halves and then into thirds.
Drizzle the potatoes with the Mustard Dressing (made in #5.) Garnish with the tomatoes, corn and basil to complete the potato salad.
For the poke bowl, arrange the tuna, perilla, onion and avocado on top of the cooled rice. Pour the sauce over the poke and top with flying fish roe.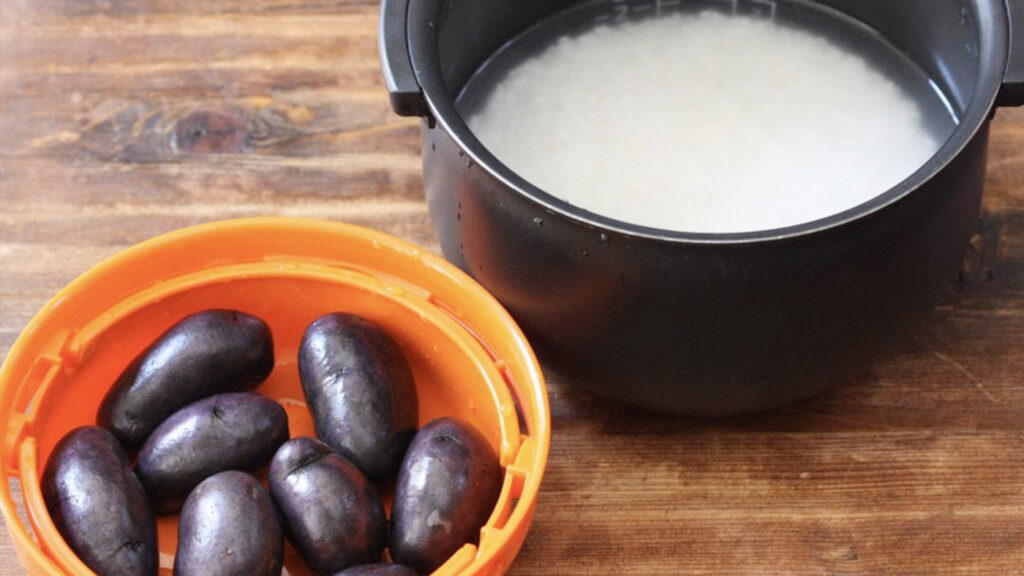 Rice Cooker Setting: Synchro-Cooking (Tacook)
WHAT IS POKE?
The word Poke in Hawaiian means to slice or cut.
A simple explanation of poke is that it is cubed raw or marinated fish (usually tuna) served over Japanese rice and topped with herbs like shiso, avocado, red onions, micro-greens and sometimes other veggies. Umami loaded sauces like soy sauce can be mixed in – but it is common to use sauces like spicy mayo or a citrusy ponzu to provide extra flavor as well.
WHAT TYPE OF TUNA SHOULD I USE IN MY POKE BOWL?
Simple answer: whatever you feel like!
Now, it's most common to hear Hawaiian poke being called an ahi poke bowl. Ahi is just another word for yellowfin and bigeye tunas. We made our poke bowls with bluefin tuna – or maguro sashimi.
So, which one is the best one to use? Again, up to you! Go with what is easiest to find in your area (and the easiest on your wallet!).
WAIT, IT'S POSSIBLE TO COOK RICE AND POTATOES AT THE SAME TIME?!
You bet! In fact, it's super easy to make both starches for our Hawaiian feast at the same time.
Your Tiger rice cooker has a Tacook plate, which creates a second cooking surface. Simply place your washed rice and water in the inner pot of your rice cooker – and place your purple potatoes on top in the Tacook tray. Use the Syncro-Cooking setting and press Start.
Both your potatoes and rice will be cooked to perfection.
But more importantly: how do the poke bowls and purple potato salad taste?
ONO! (delicious)
Happy cooking – and mahalo, friends😋
Products used in this recipe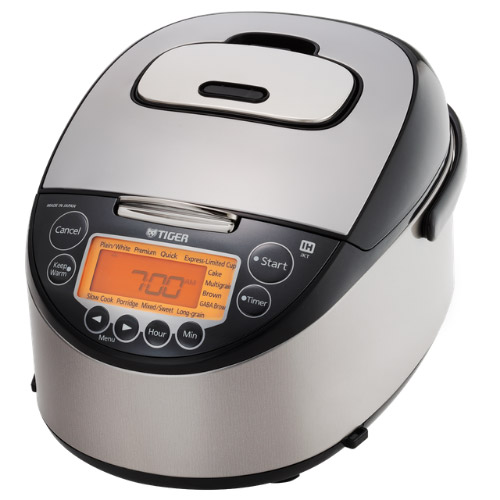 Induction Heating Rice Cooker JKT-D10U/18U
Made in Japan The TIGER JKT-D multi-functional induction heating (IH) electric rice cooker allows yo […]
LEARN MORE