AFTER SERVICE
アフターサービス
Advancing our passion for manufacturing to 10 years later
At Tiger Corporation, we provide after-sales services that allow customers to feel an attachment to our products and use them for many years.
Wishing that customers will use the products to which they feel an attachment for as long as possible,
Tiger Corporation is committed to making performance parts for repair available for
10 years.*1
To be honest, we can rather make a profit as a company if customers buy new products to replace the old ones. We, however, pride ourselves on making good-quality products and so are happy that customers feel an attachment to them and use them for many years.
Therefore, we have made every effort to improve the quality of our products, including durability, so that they can be used for as long as possible. We also focus on our after-sales service system where, if the products break down, we repair them to allow the customers to use the repaired ones further for years to come.
A result of our focus on the after-sales service system is "making performance parts for repair available for 10 years."This service was started from our wish to minimize the number of customers who are disappointed to learn that they have to discard their favorite products because Tiger Corporation cannot repair them for the reason that the necessary repair parts are out of stock years after production has been discontinued. We would like to meet our customers' expectations by keeping both options of repair and replacement open.
*If the product is out of warranty, we will repair it on a chargeable basis.

*1 The following parts are not subject to 10-year ownership.
[For performance parts for repair that are not available for 10 years (aftermarket parts)]
– For out-of-stock pouches for stainless steel bottles, those with the succeeding patterns will be supplied.
– Those using licensed products and parts featuring popular characters in movies, cartoons, anime, etc.
[Parts not established as performance parts for repair (aftermarket parts)]
– "Main body (steel plate) cases" of products for household and commercial uses
– "Main bodies" of stainless steel vacuum bottles (bottles, cups, and lunch jars)
– "Protecting cases" of products for commercial use *Except the IH rice cookers for commercial use
– "Inner cases" of electric pizza ovens
– "Main body cases" of ice-shaving machines (Kyoro-chan)
*2 Parts can be purchased for 10 years after production is discontinued.
*3 Repair parts will be replaced by repair.
*4 Performance parts for repair are parts necessary to maintain the function of the product.
*5 Sales may end in less than 10 years depending on material procurement and equipment status.

Connect the present to the future by repair.
Keep a precious story that each customer has regarding each product forever in the future.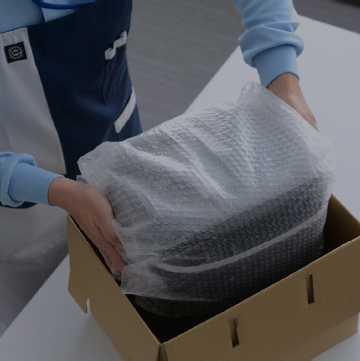 Our customer service representative has received letters from some of our customers who received the products we repaired. In those letters, they expressed attachments to the products or their memories related to the products. As every product has a great story, our wish to repair it by all means and allow it to be used again by the owner becomes stronger. Taking the customers' expectations to heart, the field staff repair the products sent from them earnestly every day.

Customers' voices
" I am very satisfied with the repaired product. once considered buying a new product to replace it but I abandoned this idea because it is my favorite model. "
" I am happy that it looks much cleaner. "
" At first glance, it looks as clean as a brand-new product. I want to continue to use it carefully. "
" I would like to purchase a maintainable product even if I need to pay a lot as an initial investment. The product repaired was bought by my deceased mother and this may be the last maintenance 10 years after its release. I appreciate that the person in charge communicated with me in a polite way in the emails we exchanged to arrange the repair. Thank you very much for your work. "