Rice Cooker
Slow Cooker Scalloped Potatoes
Make this rustic and hearty scalloped potatoes recipe in a flash. This is one home-cooked side dish that won't last long at the dinner table. Better make extra!
Servings

3-4

Preparation

20 min

Cooking

45 min
Ingredients
1 tbsp olive oil
3 Russet potatoes, peeled and cut into ⅛-inch thick slices
1 Leek, white part chopped
1 cup heavy cream
3/4 cup shredded cheddar or Gruyere cheese
1/2 cup shredded Parmesan cheese
½ tsp fresh thyme leaves, chopped
Salt and pepper for flavor
Directions
Brush the bottom of the inner pot with olive oil. 
Place one layer of potato slices in an overlapping pattern and top with a few slices of leeks.
Pour 1 tbsp heavy cream over the leeks and sprinkle 1 tbsp cheddar or Gruyere cheese and 1 tbsp Parmesan cheese. Season with salt and pepper and repeat this step. 
Repeat until all the potato slices have been used. Top with the remaining cream, cheese, and fresh thyme leaves.
Close the lid and choose the [Slow Cook] function. Set the timer to 45 minutes and press start.
Once the cooking is complete, serve on a plate.
A CHEESY POTATOES RECIPE THAT IS PURE COMFORT FOOD MAGIC
We're big suckers for classic home-cooking. And the humble potato is the perfect vehicle for many of the rustic dinner classics that make homemade meals the best!
Well, this is one potato recipe that manages to pack a TON of flavor, while keeping it simple at dinnertime.
These scalloped potatoes only require 3 spuds – and a handful of simple pantry ingredients. Leeks lend their garden-fresh mild sharpness, and contrast the creamy, cheesy notes. And you'll love the freshly chopped thyme leaves that impart an unreal depth of flavor to these slow cooker potatoes au gratin.
Now don't be intimidated by making scalloped potatoes from scratch. This hearty recipe is so easy to whip-up, you'll literally be cooking with the press of a button!
HOW TO MAKE SCALLOPED POTATOES IN A RICE COOKER
Just layer thinly sliced russet potatoes and top each layer with sliced leeks, cream and a combination of Parmesan and Cheddar cheese. Then repeat the process until you've used everything. Top with more cheese and fresh thyme leaves and you're ready to rock!
It only takes 45 minutes on the Slow Cook setting in your rice cooker to make a hearty and easy side dish everyone around your dinner table will be asking for seconds of.
Think of your Tiger multifunctional rice cooker as an all-in-one solution for cooking with ease. Because aside from making perfect rice, we've got on-board settings for making everything from short ribs to bread to soup to giant brunch-worthy pancakes.
Products used in this recipe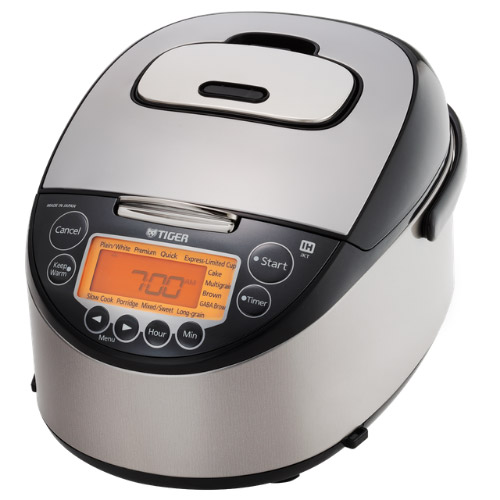 Induction Heating Rice Cooker JKT-D10U/18U
Made in Japan The TIGER JKT-D multi-functional induction heating (IH) electric rice cooker allows yo […]
LEARN MORE