Rice Cooker
Bacon and Cheese Rice Cooker Brussels Sprouts
Whether you're making a holiday side dish or just cooking dinner on a random Tuesday night, you'll love these delicious bacon and cheese rice cooker Brussels sprouts!
Servings

2

Preparation

10 min

Cooking

45 min
Ingredients
1 lbs Brussels sprouts, rinsed, ends trimmed
1 tbsp Extra virgin olive oil
3 pieces Bacon, chopped
2 tbsp Water
¼ cup Freshly grated parmesan cheese
Directions
Put the Brussels sprouts, olive oil, bacon, and water in the rice cooker inner pot and stir.
Choose the [Slow Cook] function and set the timer for 45 minutes. Press start. 
Once cooking is complete, transfer the Brussels sprouts and bacon to a serving dish and top with parmesan cheese.
BACON AND CHEESE RICE COOKER BRUSSELS SPROUTS FTW!
The holidays call for roasted brussels sprouts. Heck, they make the perfect side dish for pretty much any meal between Thanksgiving and the new year.
Well, we're here to one-up that iconic side dish with the savory goodness of bacon and cheese. Salty, smoky bacon and umami loaded Parmesan are pretty much the game, set, match of toppings.
And when it comes to this Brussels sprouts recipe, you're not going to need an ingredients list as long as your arm to set the wheels in motion.
All you'll need (aside from the sprouts themselves) is some olive oil, a few strips of bacon and a block of Parmesan to grate over the top of your cooked veggies. If you're welcoming vegetarians over to dig into your holiday feast, simply substitute the bacon for imitation-bacon-bits.
The finished dish is so delicious, we like to think of these little green orbs as flavor-grenades!
And you won't believe how easy it is to make this recipe in your rice cooker.
HOW TO COOK BRUSSELS SPROUTS IN A RICE COOKER
Cooking Brussels sprouts in a rice cooker is as simple as placing them into the inner pot with a bit of olive oil and a few tablespoons of water.
Your Tiger multifunctional rice cooker has a Slow Cook setting that is perfect for everything from vegetables to soups and stews – to even braised pork belly! But we digress…
It'll only take 45 minutes of slow cooking in your rice cooker for your Brussels sprouts to be tender and perfect.
Now give them a sprinkling of cheese and get 'em on the table!
Products used in this recipe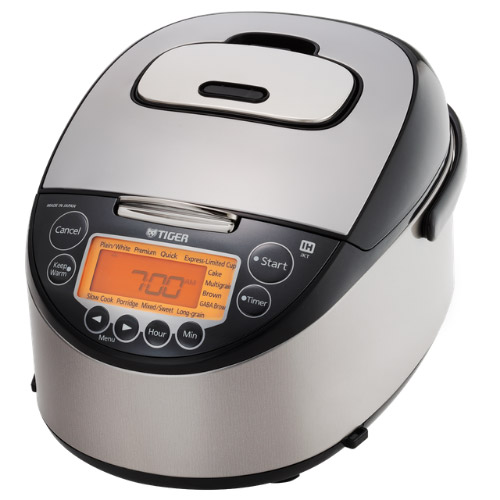 Induction Heating Rice Cooker JKT-D10U/18U
Made in Japan The TIGER JKT-D multi-functional induction heating (IH) electric rice cooker allows yo […]
LEARN MORE