Rice Cooker
Rice Cooker Root Vegetables
Make these easy rice cooker root vegetables anytime you want a yummy vegetable side dish without having to crank up your oven to broil. You're going to love these savory and sweet root veggies!
Ingredients
2 Parsnips, peeled and chopped
2 Carrots, peeled and chopped
2 Potatoes, peeled and chopped
1 tsp Powdered chicken stock
1 tbsp Olive oil
⅓ cup Water
Salt and pepper to taste
Directions
Place all the ingredients in the rice cooker's inner pot, choose the [Plain] function and press Start.
Once complete, serve in a bowl.
THE EASIEST VEGETABLE SIDE DISH EVER
Now, this rice cooker vegetable recipe is a riff on one of the most iconic veggie recipes of all time: oven roasted root vegetables. It's one of the best side dishes whether you're celebrating Thanksgiving or just sitting down to any plain-old weekday meal.
However, sometimes cranking the oven to broil (and heating up your kitchen in the process) just isn't in the cards.
Therefore, we've got a kitchen hack that produces a savory, sweet and earthy vegetable side dish with the simple press of a button!
Sure, it's easy to make from scratch… But the real takeaway from this rustic root vegetables recipe has got to be the flavor.
Root veggies like carrots and parsnips have a natural sweetness that is offset by earthy and mineral notes. Put those together with some peeled and chopped potatoes – some olive oil and savory chicken stock – and you've got a vegetable side dish worth putting on the table!
HOW TO COOK ROOT VEGETABLES IN A RICE COOKER
Making this comfort food staple in your Tiger multi-functional rice cooker is as easy as it gets. Heck, you don't even have to change the settings for this one!
Just load all your ingredients into the inner pot, select the Plain setting (yep, that's the same setting you use for white rice) and press the Start button.There's no need to keep your eye on these yummy root vegetables either. Your rice cooker will do all the heavy lifting on this one 🙂
Products used in this recipe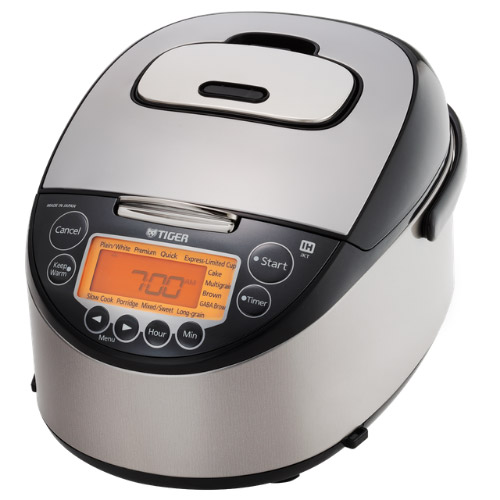 Induction Heating Rice Cooker JKT-D10U/18U
Made in Japan The TIGER JKT-D multi-functional induction heating (IH) electric rice cooker allows yo […]
LEARN MORE