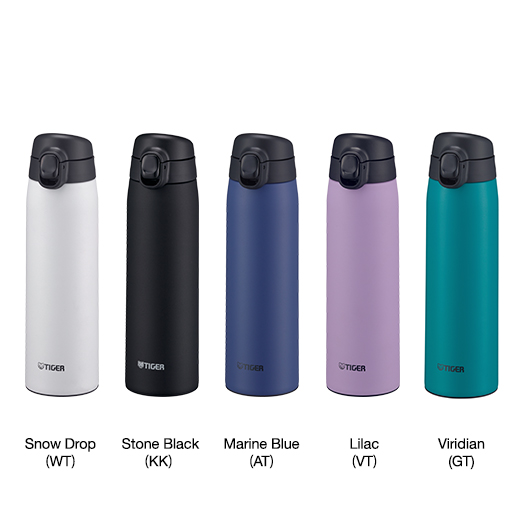 Vacuum Insulated Bottle MCT-K035/K050/K060
– Antibacterial finishing
– "Super Clean Plus" Surface Technology
– One-push-open lid with self-locking function
– "Hyper-Spin" Manufacturing Process
– Vacuum insulation technology
– Plastic bottom base
– Refreshingly cool and nuanced colors
– Removable and washable spout
Antibacterial stopper and outer surface of body on which the growth of bacteria is prevented by 99% or more*
---
In most cases, bacteria adversely affect humans when they increase massively in excess of a certain amount. The antibacterial finishing prevents the growth of bacteria so that the product surface can be kept hygienic. For the MCT-K series, on the stopper and outer surface of body with the antibacterial finish, the growth of bacteria is prevented by 99% or more, compared with untreated ones; this means the bottle can be used hygienically at anytime. (Excluding the interior of the cylinder.)
Antibacterial finishing
MCT-K uses silver (Ag) antibacterial processing.
-Testing laboratory: DAIWA CHEMICAL INDUSTRIES CO., LTD. EVALUATION TECHNICAL CENTER
-Testing method: The material meets JIS Z 2801(ISO22196), test for antimicrobial activity and efficacy
-Subject area: Outer surface of body, lid, spout, gasket
-Processing method: Kneading into plastic and silicone rubber and then coating
-Ingredient material: Ag inorganic antibacterial agent
-*Testing result: Antibacterial activity value 2.0 and more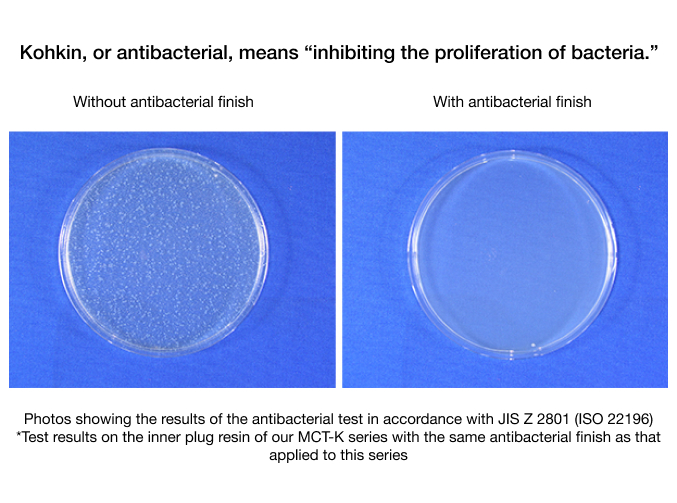 Antibacterial Lid, Base & Coat certified by the Society of International Sustaining Growth for Antimicrobial Articles (SIAA)
---
– Tested parts: Lid, Base & Coat
– SIAA registration number: JP0122676X0001G
Products carrying the SIAA marks are subjected to quality control and information disclosure under the SIAA guidelines based on the results of evaluation conducted in accordance with ISO 22196. The SIAA marks are symbols for Kohkin (or antibacterial) established by the Society of International Sustaining Growth for Antimicrobial Articles.
The products that meet the three criteria of [1] antimicrobial properties (*1), [2] safety (*2) and [3] appropriate labeling (*3) may carry the SIAA mark.
(*1) The proportion of bacteria on the surface of the product must be equal to or less than 1/100 that of a non-treated product, and the antimicrobial effect must remain after durability tests. Antimicrobial properties are determined from the results of tests conducted in accordance with the international standard ISO 22196.
(*2) The safety criteria uniquely established by SIAA must be met.
(*3) The types of antibacterial agents used and parts treated must be clearly indicated.
Polishing Technology
---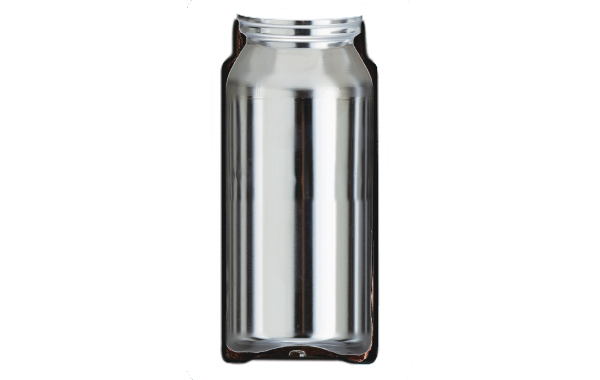 The inside of Tiger's bottles has smooth and polished surface that is tough against stains and rust.
One-push-open lid with self-locking function
---
The one-push-open lid is easy to open with one hand. The lid locks automatically when closed, preventing anyone who is using the one-push-open lid for the first time from forgetting to lock the lid. The self-locking function also prevents the lid from accidentally opening in a bag resulting in spillage of the drink.

"Hyper-Spin" Manufacturing Process
---
Tiger's proprietary stainless-steel spinning reduces the thickness to produce an extremely light bottle. The 0.35 L size weighs approximately 170 g, the 0.5 L size approximately 210 g, and the 0.6 L size approximately 230 g, making the lightweight bottle ideal for carrying around when you're out and about.
Vacuum insulation technology
---
Tiger's vacuum insulation technology keeps drinks hot or cold for about six hours. The copper foil in between the two stainless-steel walls supports temperature retention. Cold drinks will not cause condensation on the outside of the bottle and hot drinks will not cause the bottle to become too hot to handle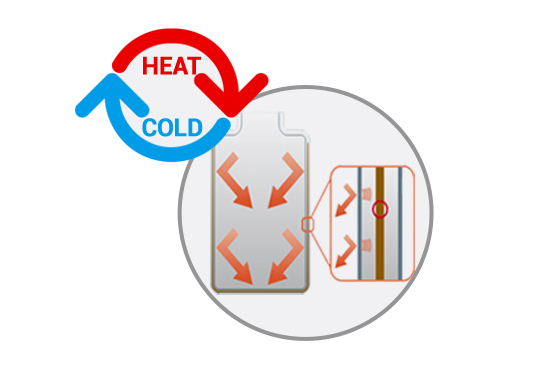 Plastic bottom base
---
The plastic bottom base is used to make it difficult for the bottle to slip on or damage the surface of a desk or floor. The bottle is also recommended for use in quiet places as the plastic bottom base reduces the noise made when the bottle is placed on a surface.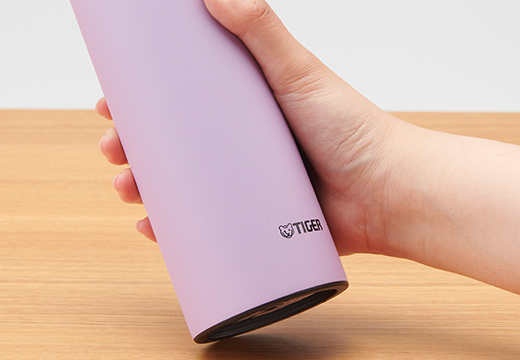 Refreshingly cool and nuanced colors
---
The product is available in a choice of five refreshingly cool and nuanced colors. The colors were designed in consideration of a balance between urbane taste and ease of everyday use. The matte bead-like texture is pleasant to touch. The bottles in all the colors come with black stoppers. The black color of the stopper makes each color of cylinder stand out sharply.