Rice Cooker
Yakimeshi (Japanese Fried Rice)
Check out this time saving hack for making Japanese fried rice! This rice cooker yakimeshi is savory and delicious. No wok required!
Servings

3-4

Preparation
Cooking
Ingredients
1 cup Japanese short grain rice
Water
1 tablespoon soy sauce
1 small leek, finely chopped
1 small carrot, diced
1 celery stalk, diced
1 large egg, whisked
1 cup lettuce, shredded
Salt and pepper, to serve
Directions
Rinse the rice under cold water and keep swishing the rice around until the water runs clear.
Transfer the rice to the rice cooker inner pot and add water to the 2 cup line for white rice. 
Stir in the soy sauce, leek, carrot, and celery. 
Close the lid and select the [Plain] setting. Press start.
When the cooking is done, open the lid and add the egg. Close the lid and let sit for 5 minutes. 
Open the lid and using the rice paddle, gently fold the egg with the rice. 
Add the lettuce, season with salt and pepper, and fold the lettuce until the rice is well mixed. Serve.
WHAT IS YAKIMESHI?
Yakimeshi (やきめし) is Japanese fried rice. Common additions include diced roast pork (chashu), eggs and scallions.
But we'd argue that the best thing about egg fried rice is that there are no hard and fast rules when it comes to what you can add. Use what you like and make it yours!
Now, while there are some ingredient variations from recipe to recipe, the one constant is the use of short grain Japanese rice. Once cooked, short grain rice will have a great chew and a slight stickiness to it (but it isn't sticky rice).
You'll want to make sure to rinse your Japanese rice before cooking it. The rinsing process removes excess starch that can leave you with cooked rice that is gloppy and mealy. Not nice! Rinse your rice until the water runs clear.
HOW TO MAKE CONGEE IN A RICE COOKER
Simply add your rinsed rice, water, soy sauce, leek, carrot and celery to the inner pot of your rice cooker and stir.
Close the lid, select the Plain setting and press the Start key.
When the cooking cycle is finished, open the lid, add the egg and then close the lid again for 5 minutes. The heat from the cooked rice will cook the egg to perfection.
Open the lid again and fold the cooked egg into the rice. Add shredded lettuce, salt and pepper – stir again and serve!
Products used in this recipe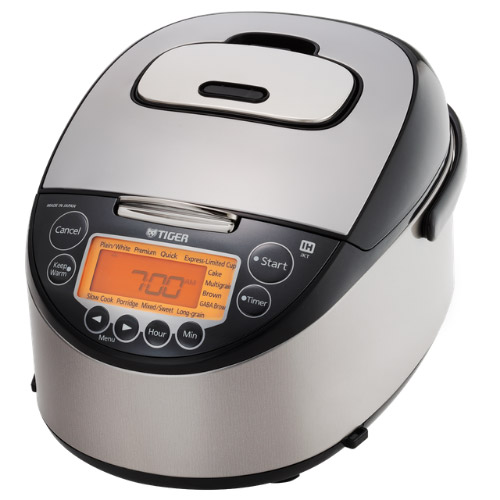 Induction Heating Rice Cooker JKT-D10U/18U
Made in Japan The TIGER JKT-D multi-functional induction heating (IH) electric rice cooker allows yo […]
LEARN MORE