Rice Cooker
Bibimbap Style Rice
Need a little fiery Korean goodness in your life? Make this delicious bibimbap style rice at home in your rice cooker!
Servings

3-4

Preparation
Cooking
Ingredients
2 cups rice
Water
1 ½ tablespoon gochujang
1 chicken or vegetable cube stock
3 garlic cloves, minced
1 carrot, julienned
6 shiitake mushrooms, chopped
½ cup shelled edamame
1 cup baby spinach
Salt and pepper, to taste
Directions
Rinse the rice under cold water and keep swishing the rice around until the water runs clear.
Transfer the rice to the rice cooker inner pot and add water to the 2 cup line for white rice. 
Stir in the gochujang, powdered stock, and garlic, until well combined.
Add the carrot, shiitake mushrooms, edamame, and stir.
Close the lid and choose the [Plain] function. Press start.
When the rice is cooked, open the lid and add the spinach. 
Close the lid and leave for 5 minutes.
Open the lid and using the rice paddle, gently mix the rice and vegetables until everything is well combined. Serve.
A DELICIOUS KOREAN RICE BOWL: NO ASSEMBLY REQUIRED
You'll never need to twist our arms to eat bibimbap! It's one of those Korean recipes that sounds like a good idea no matter what time of day (or night) it gets brought up.
The problem is… unless you're going to a restaurant, making it from scratch is a labor intensive proposition.
You see, bibimbap is typically a rice bowl served in a dolsot – or Korean stone pot – that cooks the rice to a browned, crunchy texture. It's then topped with pickled veggies, greens – a protein like kalbi or bulgogi – and a bibimbap sauce with gochujang as its base. Extra points if you top it with a fried egg with a soft yolk.
Phew! Delicious, but lots of steps.
Well, this bibimbap style rice recipe is a riff on the classic. The assertive Korean flavors are there, but it's much easier to whip up at home.
We're using gochujang, garlic and soup stock for a fiery, savory depth of flavor. Shiitake mushrooms deliver a subtle umami – and carrots, edamame and spinach bring a little garden freshness to the mix.
Oh, btw – it's ready with the press of a button!
HOW TO MAKE BIBIMBAP IN A RICE COOKER
To start, simply add your rinsed rice, water and bibimbap ingredients (EXCEPT for the baby spinach) to the inner pot of your Tiger multifunctional rice cooker.
Stir well, close the lid and select the Plain cooking setting. Press Start, and you're pretty much good to go!
Once the cooking cycle has finished, add the baby spinach and close the lid again for 5 minutes so the spinach has time to wilt.
Finally, open the lid, stir and serve. You're gonna love this easy Korean inspired bibimbap style rice!
Products used in this recipe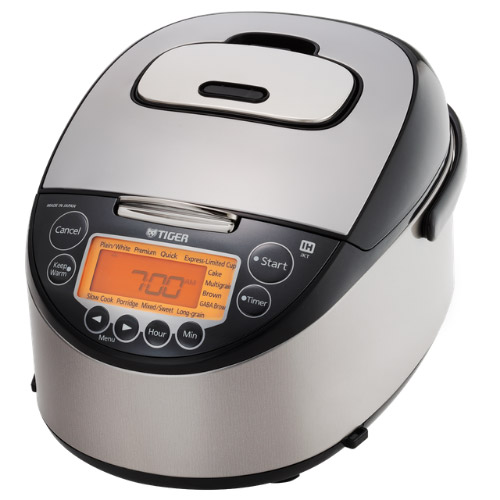 Induction Heating Rice Cooker JKT-D10U/18U
Made in Japan The TIGER JKT-D multi-functional induction heating (IH) electric rice cooker allows yo […]
LEARN MORE