Rice Cooker
Korean Style Brown Rice Salad
This Korean style brown rice salad has all the flavors! It's savory, tangy, spicy, earthy and slightly sweet – with a garden fresh, crunchy bite.
Ingredients
2 cups short grain brown rice
1 red bell pepper, diced
1 cup English cucumber, diced
¼ cup shelled edamame
¼ cup fresh or canned corn (drain well if you are using canned corn)
¼ cup pumpkin seeds or sunflower seeds
2 scallions, finely chopped
1 teaspoon tobanjan
3 tablespoons gochujang
3 tablespoons soy sauce
1 tablespoon plain rice vinegar
2 tablespoons pure maple syrup
1 teaspoon toasted sesame oil
Salt and pepper, to taste
Directions
Briefly rinse the brown rice under water and drain well.
Add the brown rice to the rice cooker inner pot and enough water to reach the number 2 line for brown rice.
Close the lid and choose the [Brown] rice function on the rice cooker. Press start.
Meanwhile, mix all the ingredients for the dressing and set aside.
When the rice is cooked, transfer it to a bowl and let cool to room temperature.
Mix in the bell pepper, cucumber, edamame, corn, pumpkin seeds, and scallions.
Pour the dressing on top of the rice and toss until all the rice and vegetables are evenly coated. 
Season with salt and pepper and serve.
A BROWN RICE SALAD WITH ASSERTIVE KOREAN FLAVORS
Most rice salad recipes tend toward the Mediterranean flavor profile. And we're big fans of that! Hey – some flavor combinations reach legend-status for a reason.
Well, we're turning the tables a bit with this Korean brown rice salad. A mixture of fiery gochujang, earthy tobanjang, soy sauce and rice vinegar bring a depth of flavor to this cold rice salad's dressing that's just out of this world.
But there are two secret weapons in the dressing that pull out all the stops! A dash of pure maple syrup delivers a sweetness that is understated perfection – and a tiny bit of sesame oil brings a toasted nuttiness that ties the whole thing together.
But that isn't all when it comes to this Korean rice salad! Because flavor is just one element. How about the fresh crunch of some veggies? We thought you'd never ask!
Shelled edamame and diced English cucumber bring a verdant crunch – while red bell pepper delivers fiery flashes of color. Corn interjects understated pops of sweetness.
But we'd say the crunchy element we love the most is the last minute addition of chopped scallions and pumpkin seeds. This Korean style brown rice salad is satisfying on so many levels – and is a breeze to whip up using your rice cooker!
HOW TO MAKE BROWN RICE SALAD IN A RICE COOKER
Just place your rinsed short grain brown rice into the inner pot of your Tiger multifunctional rice cooker. Select the Brown function and press the Start button.
While your rice is cooking, simply prepare your dressing and veggies and set everything aside.
Once the rice has cooled a bit, just mix everything together and serve. You and your family are going to be clamoring for seconds!
Products used in this recipe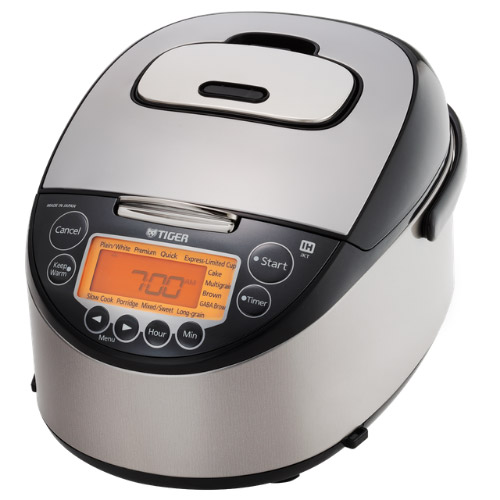 Induction Heating Rice Cooker JKT-D10U/18U
Made in Japan The TIGER JKT-D multi-functional induction heating (IH) electric rice cooker allows yo […]
LEARN MORE