Rice Cooker
Garlic Brown Rice with Lemon and Thyme
This garlic brown rice with lemon and thyme is savory, earthy, bright and herbaceous. In short, it has ALL the flavors!
Ingredients
1 ½ cup short grain brown rice
Enough vegetable broth to reach the 1.5 brown rice line in the rice cooker inner pot (which comes to just over 1 ½ cup)
2 tablespoon extra virgin olive oil
2 small shallots, finely chopped
½ teaspoon salt
1 tablespoon extra virgin olive oil
2 garlic cloves, minced
2 tablespoons, chopped fresh thyme
2 tablespoon freshly squeezed lemon juice
¼ cup freshly grated parmesan cheese (optional)
Directions
Briefly rinse the brown rice under water and drain well.
Add the brown rice to the rice cooker inner pot along with the vegetable stock, olive oil, shallots, and salt. 
Stir and close the lid. Choose the [Brown] rice function and press start.
When the rice is ready, stir well and close the lid to keep warm.
Add 1 tablespoon olive oil to a small pan and turn the heat to medium low. 
When the oil is hot, add the garlic and thyme and cook for 1-2 minutes, until the garlic becomes fragrant and is beginning to change color.
Turn the heat off and add the garlic and thyme and the lemon juice to the brown rice. 
Mix well and transfer to a bowl. Top with freshly grated parmesan cheese and serve.
LEMON AND THYME GO SO WELL WITH GARLIC BROWN RICE!
Seasoned rice is so great! Because you can make a full flavored side dish like this hijiki brown rice recipe – or make rice the main dish of your meal, like with this hearty chicken mushroom rice. Mmmm…
Well, this garlic brown rice with lemon and thyme is our new favorite rice recipe!
Short grain brown rice is cooked to perfection in savory vegetable broth – alongside extra virgin olive oil and chopped shallots. Fresh thyme introduces a garden fresh element to the mix, and freshly squeezed lemon juice brightens everything up like a pop of actual sunshine.
However, we'd say the star of this simple rice dish has gotta be the garlic. Because the level of toasty goodness a bit of pan fried garlic delivers to this garlic rice is out of this world. Everyone around the dinner table will be wondering what your secret is!
And, we think you're going to love how easy it is to whip up in your rice cooker.
HOW TO COOK BROWN RICE WITH GARLIC, LEMON AND THYME IN A RICE COOKER
Just add your rinsed brown rice, broth, olive oil, chopped shallots and a pinch of salt to the inner pot of your Tiger multifunctional rice cooker. 
Give it all a good stir, close the lid, select the Brown setting and press the Start button.
Once the timer sounds off, just stir your brown rice pilaf and close the lid to keep it warm.
Pan fry your chopped garlic in a bit of olive oil until it's juuust beginning to change color. Then add it to your brown rice – alongside your lemon juice and freshly chopped thyme.
Stir well and serve it up. Hey – it can't hurt to add a dusting of Parmesan cheese… just sayin'.
YUM!
Products used in this recipe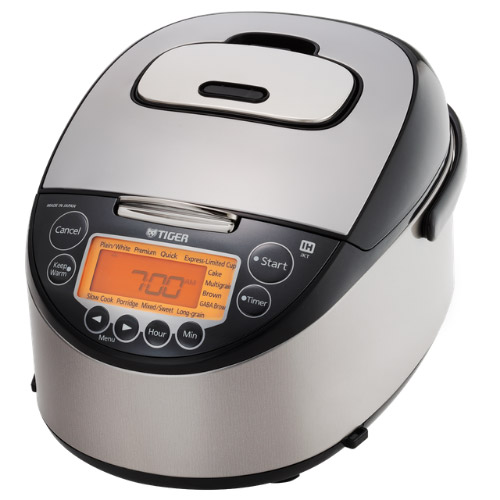 Induction Heating Rice Cooker JKT-D10U/18U
Made in Japan The TIGER JKT-D multi-functional induction heating (IH) electric rice cooker allows yo […]
LEARN MORE