Rice Cooker
Brown Rice Tabbouleh
This bright and sunny brown rice tabbouleh is loaded with garden fresh herbs and is super simple to make at home. Bonus: since we're using brown rice instead of bulgur, it's gluten free!
Ingredients
2 cups Brown rice (supplied measuring cup)
3 cups Curly parsley, finely chopped
½ cup Fresh mint, finely chopped
4 Medium tomatoes, finely chopped
1 Small red onion, finely chopped
¼ cup Salted sunflower seeds
3 tbsp Eextra virgin olive oil
3 tbsp Lemon juice
Salt and pepper, to taste
Directions
Rinse and drain the brown rice and place it in the rice cooker inner pot. Fill the pot with enough water to reach the 2-cup line for brown rice.
Close the lid and choose the [BROWN] function. Press start.
While the rice is cooking, prepare the other ingredients.
When the rice is cooked, transfer it to a bowl and let it cool to room temperature, in the fridge.
Add all of the ingredients to the rice and toss well. Serve.
WHAT IS TABBOULEH?
Tabbouleh is a vegetarian salad typically made with bulgur and fresh herbs like parsley and mint. This Middle Eastern salad is spartanly dressed in a simple mixture of olive oil, lemon juice and salt.
When we first made this particular tabbouleh recipe, we were looking for a bulgur substitute that would be gluten free, yet would still hang on to the spirit and flavors of this iconic Levantine recipe.
Brown rice did the trick!
It's nutty and toothy in all the right ways, and doesn't detract from the textures and tastes you expect from a traditional tabbouleh salad.
This brown rice tabbouleh is packed with the garden freshness of fresh parsley and mint – and studded with chopped tomatoes and red onions.
Salted sunflower seeds add a toasted element, and are complemented by the simple addition of extra virgin olive oil and sunny, bright lemon juice.
This gluten free tabbouleh is a real winner when it comes to flavors – and it's so easy to make at home!
HOW TO MAKE TABBOULEH IN A RICE COOKER
For this brown rice tabbouleh recipe, all we'll need to do is make brown rice, chop a few herbs and mix it all up.
Rinse your brown rice and cook as usual in your rice cooker.
While the rice is cooking, simply chop up the other ingredients – and juice a lemon.
After cooking, cool the rice a bit in the fridge. Then just mix everything together and serve.
Hey, we told you it was easy!
Products used in this recipe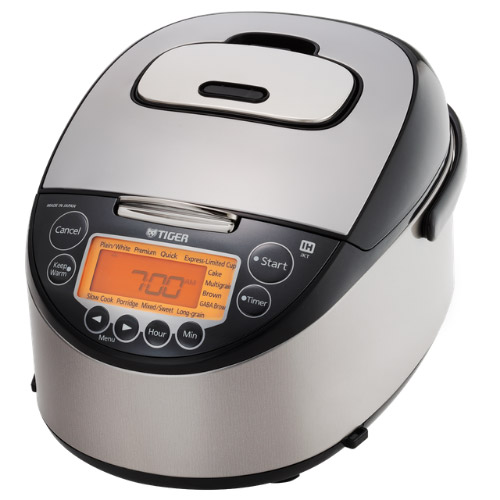 Induction Heating Rice Cooker JKT-D10U/18U
Made in Japan The TIGER JKT-D multi-functional induction heating (IH) electric rice cooker allows yo […]
LEARN MORE